Leverage data and algorithms to gain a competitive edge: AI-powered strategies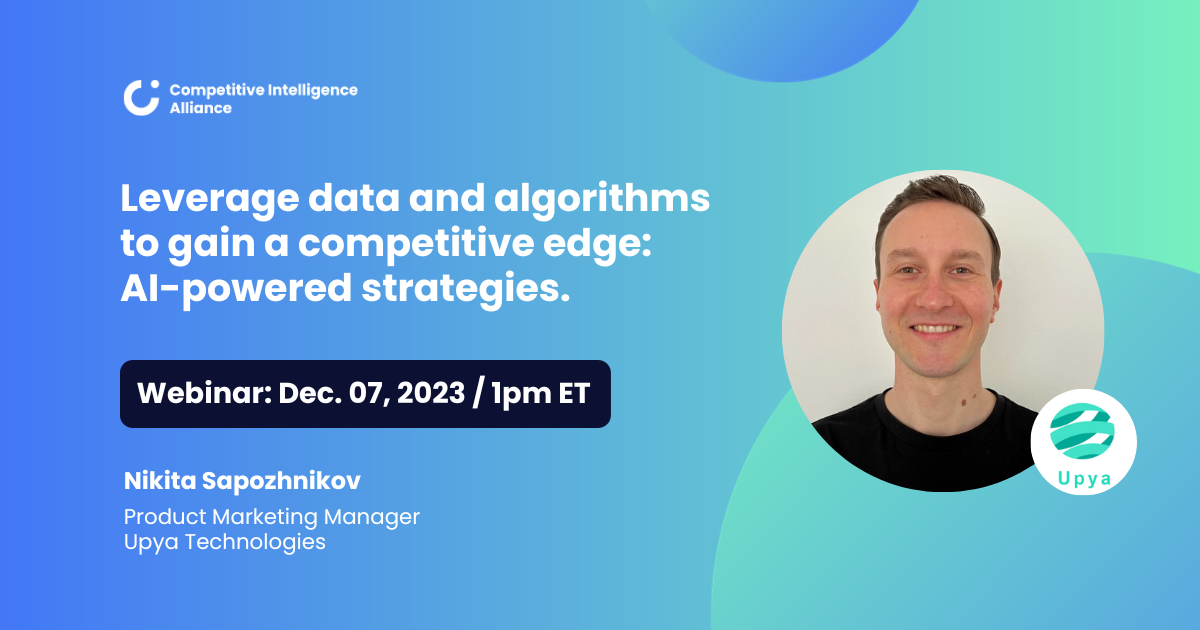 Join Nikita Sapozhnikov, a seasoned Product Marketing Manager with over a decade of experience, as he unveils the secrets to leveraging data and algorithms for a competitive advantage in our upcoming webinar. 🧑‍💻

In this exclusive session, Nikita will delve into the dynamic intersection of Competitive Intelligence and AI, offering invaluable insights and strategies tailored for diverse business landscapes. Here's what you can expect:
🎯 Competitive Intelligence Market Map: Navigate the competitive landscape effectively with a comprehensive understanding of market dynamics.
🤖 AI's Influence on Competitive Intelligence: Uncover how AI is revolutionizing the way businesses gather, analyze, and utilize competitive insights.
🚀 Startup Approaches: Gain insights into how startups can utilize AI strategies to propel their growth and compete effectively from day one.
🛒 Tips for B2C: Explore strategies tailored specifically for the dynamic B2C landscape and discover how it revolutionizes consumer-centric strategies.
💼 Effective B2B Strategies: Learn the precise tactics and methodologies to elevate your B2B approach, enabling sustainable growth.
Mark your calendars 👇🏻
📆 When? December 07, 2023
⏰ What time? 1pm ET / 6pm GMT
📍Where? Live on Zoom

Don't miss this opportunity to gain a competitive edge!
🤝 Get to know the speaker:

With over a decade of experience in B2B and B2C product marketing across diverse industries, Nikita Sapozhnikov is a seasoned expert in market research, strategic positioning, and go-to-market (GTM) strategies.

His journey has fine-tuned his skills, allowing him to consistently craft innovative approaches that resonate across various business landscapes. Now as the Product Marketing Manager at Upya Technologies, Nikita eagerly channels his passion for leveraging market insights to drive impactful strategies, eager to bring his wealth of knowledge and innovative methodologies to the forefront of the industry.