5th Industrial Revolution: AI & Competitive Intelligence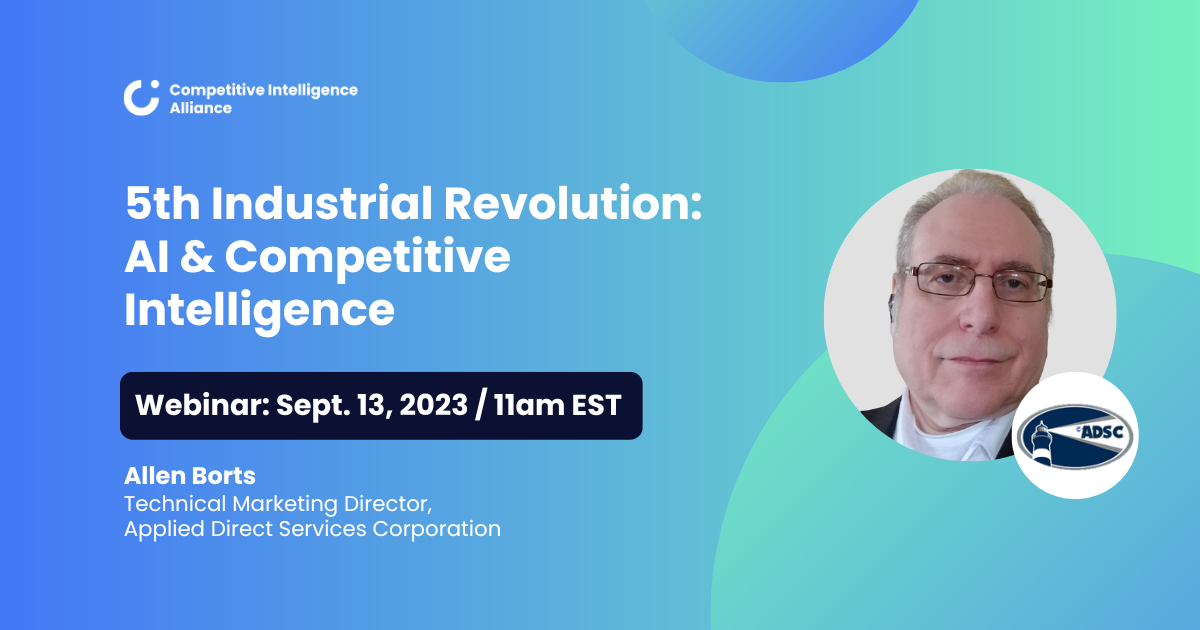 Are you ready to delve into the future of Competitive Intelligence?
We had an exciting webinar recently featuring the esteemed Allen Borts, a seasoned technology expert with over three decades of experience pioneering digital transformation.
Did you miss it? Don't worry, we've saved you a recording! 🤩
As we stand on the cusp of the 5th Industrial Revolution (5IR), watch the recorded session to explore the remarkable intersection of Artificial Intelligence (AI) and Competitive Intelligence. 🌟
🌐 Unveiling Generative AI: Discover the transformative power of Generative AI, an innovation that makes the history of human knowledge accessible like never before. Allen will delve into Competitive Intelligence, explaining how this paradigm shift empowers businesses to gain a competitive edge effortlessly. Imagine having a wealth of human knowledge at your fingertips, accessible through simple conversations, both written and spoken.
💡 Navigating New Business Realities: Gain insights into ethical modelling, accurate predictions, and creative problem-solving, all empowered by AI.
🌟 Highlights Include:
✅ Brief overview of all 5 Industrial Revolutions.
✅ How 5IR transforms business paradigms.
✅ Safeguarding your Intellectual Property (IP) with private AI servers.
✅ Bridging the creativity deficit with Generative AI.
✅ Demonstrations illustrating real-world applications.
✅ Exploring regulatory frameworks and safety measures.
✅ Envisioning plausible futures in the 5IR landscape.
Watch the recording here👇

🤝 Get to know the speaker:
Allen Borts is a 30-year veteran of competitive intelligence. He is the founder of both Applied Direct Services Corporation (ADSC) & The SwiftSel Methodologies. ADSC is a marketing communications group from Toronto, Canada that is specialized to the High Technology Industry, and SwiftSel Methodologies have given rise to an estimated 80,000+ Enterprise Grade opportunities for High Technology Groups in a wide variety of valuable & serious technological capabilities.
Not done chatting about Bing & ChatGPT? Join our free Slack community and network with hundreds of your competitive intelligence peers about AI-powered tools and much more.  
To join, just click right here.👇