Data is now the most valuable resource in the world. It's true. However, it's valuable to your business only if you have identified ways to benefit from it. If you've adopted a business intelligence strategy, then you're well on your way to squeezing as much value as possible from your data.
Real-time reports beat static reports
To get the most from your data, it needs to be accurate. This means that you shouldn't be relying on static reports. They're out of date as soon as you send them. If this is you, you need to put in place a business intelligence strategy that includes dashboards. Dashboards automate the creation of these static reports. Imagine having up-to-the-minute data!
Actionable data is a gold mine
Most companies use data to measure various things related to their business. Leads, sales, or revenue, for example. The way to really generate value from your data is to use it to improve your results.
What we've done for pool builders and other contractors is develop a business intelligence approach to their marketing. The data generated is actionable - we can use it to help these contractors gain insights, and it allows us to help them:
Generate leads.
Improve the quality of their leads.
Reduce or eliminate their reliance on PPC ads.
Increase their sales.
Increase their revenue per sale.
What differentiates us is we create a dashboard for each of our clients. Here's some data from one of our clients to illustrate how it has helped them.
Increased lead quality, sales, and revenue per sale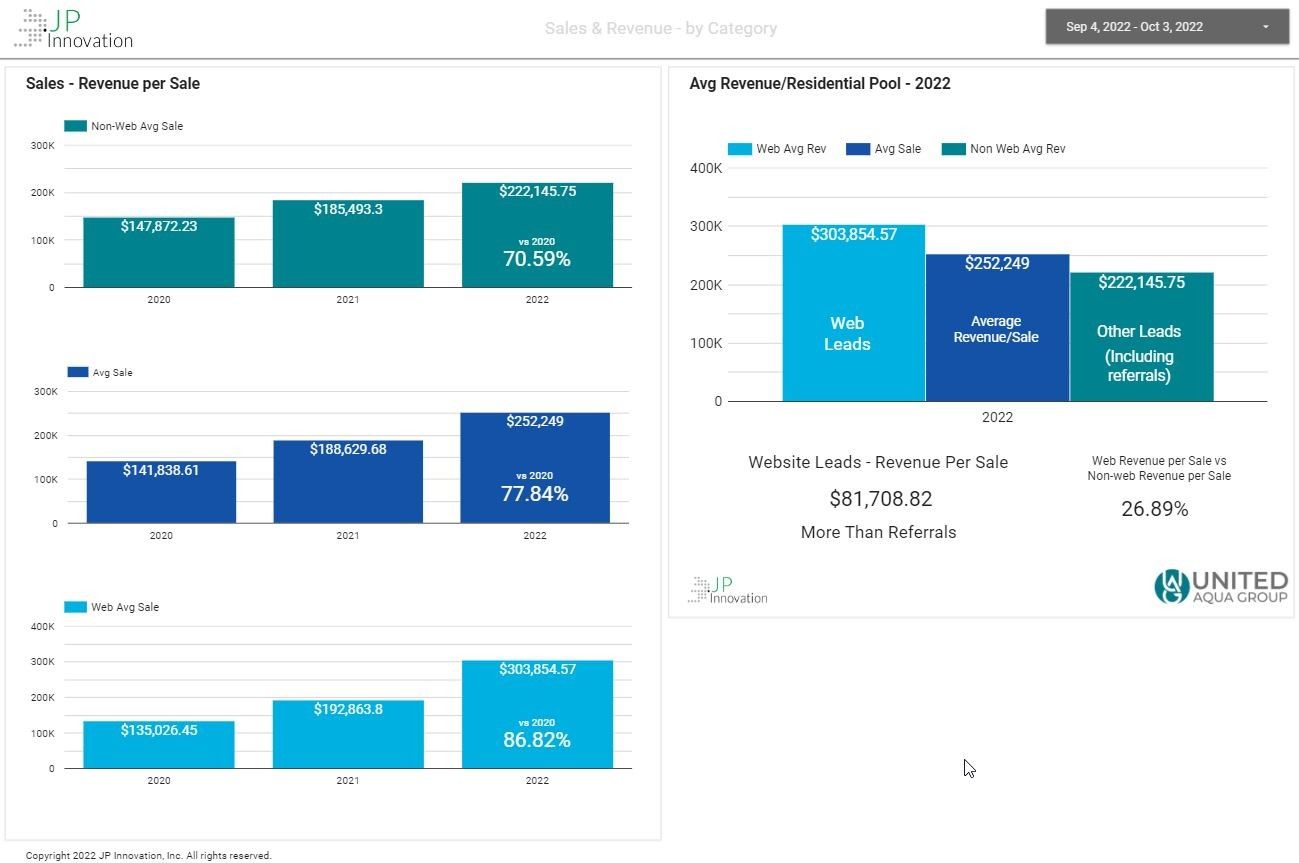 This screenshot from our client dashboard shows the average revenue per sale for a pool builder. Notice their average revenue per sale has increased. We break their sales data into two categories: Web and Non-web.
Non-web includes referrals, sales from builders, and other sales which are not directly attributable to their web marketing. Web includes all online marketing from SEO, a Google Business Profile, and other sources. It's completely organic as they spend nothing on ads.
Actionable data to target consumers
One contractor we worked with wanted to generate higher revenue per sale from their projects. This was especially important as they had a backlog of work. So how do we use data to give them what they want?
Generating higher-quality leads
The answer: generate higher quality leads. If you want to generate leads that result in more revenue per sale, then you need to increase the quality of the leads you're generating.
Here is the approach that we used.
Our goal was to target people organically – those with the intent to hire a pool builder. We did this by focusing on the most valuable searches for their business, not by focusing on search volume alone.
This involves extensive research, which we include in a dashboard. Doing this lets your clients see how they're ranking for searches vs their competitors. As we make improvements they can see these changes. We use the data to focus, systematically, on the searches that matter most to them.
Here are some of the data: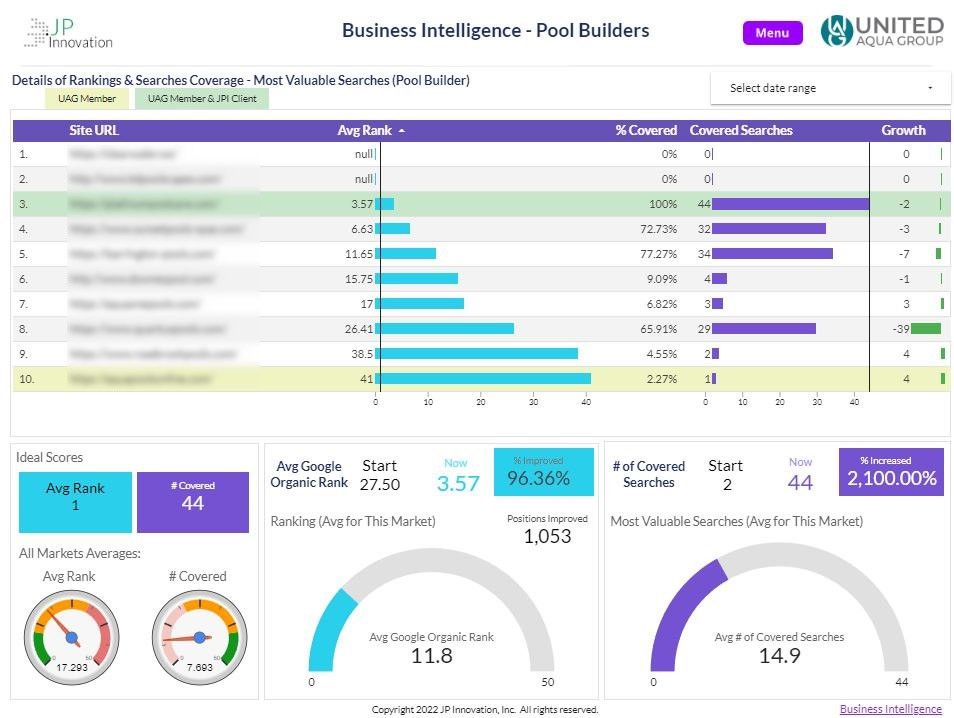 The line highlighted in green is our client. The other nine lines are their competitors.
Avg Rank – Our goal is to get as close as possible to 1. You can see our client has the lowest Avg Rank of 3.57.
% Covered – This is the percentage of searches we're tracking each company shows up for. Our client is the only company to show up for 100% of the searches.
Covered Searches – This is the number of searches each company shows up for organically. In this instance, we are tracking 44 different searches and our client shows up for 44.
And now the actionable data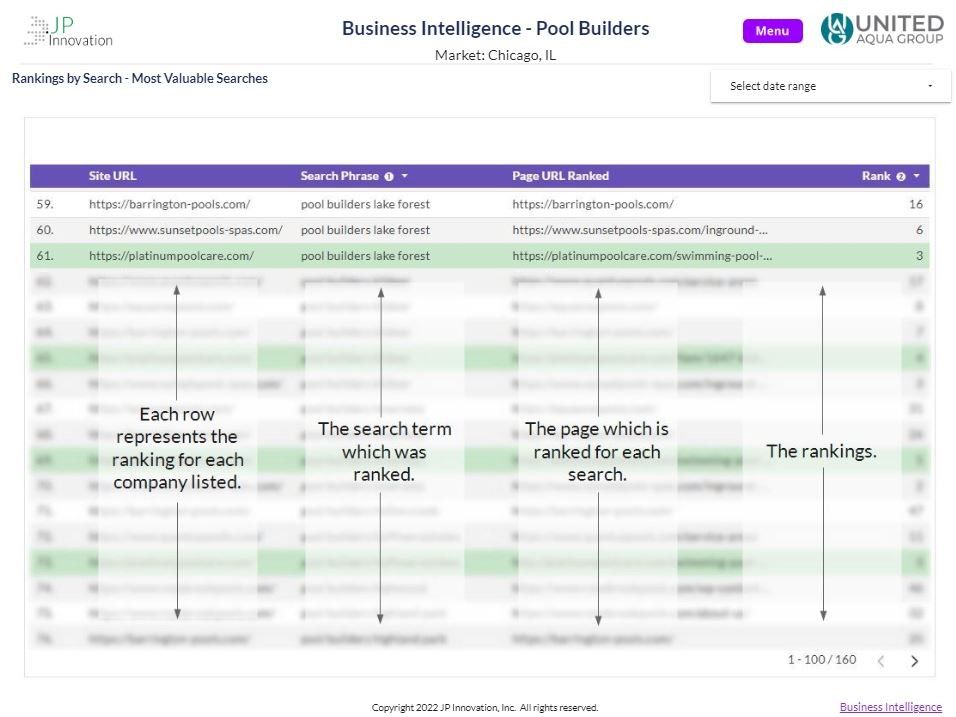 This section of the dashboard shows each search term we're targeting. It shows our client's rank and the rank of each of their competitors that rank for each search.
This is actionable data you can use to make improvements to client rankings.
An added benefit to dominating the most valuable searches is the ability to reduce or eliminate the need for PPC ads. This client used to spend $7,000 per month on PPC ads. Now they spend nothing. They've saved over $700,000 while improving their revenue per sale.
This article was originally published on Jim's LinkedIn.
---
Looking for a soapbox? You've found it. 📣
Consider yourself an expert in competitive intelligence or competitive enablement? Looking for a platform to get your voice out there?
Look no further. The Competitive Intelligence Alliance wants thought leaders like you to get in touch.
Don't want to write? There are other ways you can get your voice heard and build your personal brand. From podcasts to ghostwriters, we've got the avenue for you. 💯
---