There are many roles and responsibilities that are conducive to a successful company dynamic, and there isn't a blanket approach that can be applied when exploring the delegation of such tasks.
Fundamental processes such as sales enablement, pricing, and research can fall under the remit of different teams, and the same rationale can also be applied to competitive intelligence.
We'll also share a sure-fire way how to improve your competitive intelligence knowledge... 😉
Which teams are responsible for competitive intelligence?
In the 2021 Competitive Intelligence Trends Report, we explored who is responsible for the CI function to decipher which department owns the process and understand who is responsible in most cases.
Most product marketers surveyed (78.6%) indicated that they are responsible for competitive intelligence at their company.
The undoubted value of a dedicated CI team is being recognized, with 11.4% of respondents saying they have a specialist team who own the process.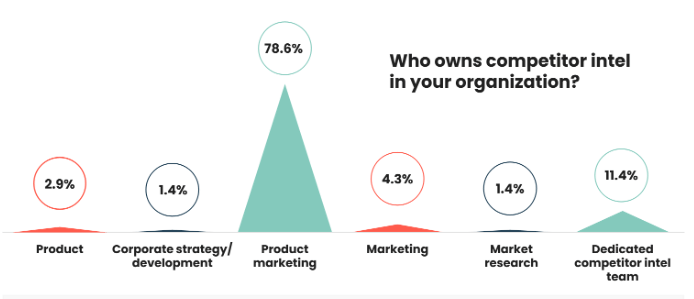 Adam Houghton, VP of Success at Klue, gave an insight into how the company's client success team sync with PMMs across the board, and some of their common findings:
"Our Client Success team works closely with thousands of product marketers across multiple industries and company sizes.
"There's a common thread we tend to see -  understanding how they differ from competitors and where they fit in their market landscape is critical to success - not only for positioning and messaging to empower revenue teams to win, but to help drive product direction and strategy across the organization."
What are the goals of competitive intelligence?
No matter who competitive intelligence is being carried out by, its purpose remains the same: the process helps you understand your market rivals, differentiate your product, and compete in increasingly competitive markets.
That said, while the benefits of competitive intelligence can't be disputed, for some companies, CI remains unchartered territory.
At our 2020 event, Product Marketing Off-Piste, we welcomed a group of PMMs experienced in competitive intelligence to demystify the art of CI.
How is competitive intelligence executed?
With competitive intelligence, the more thorough you are, the more insights you'll gain, and this bodes well for your product.
With this in mind, it was encouraging to see nearly 60% of respondents believe CI is influential within their role.

Patty McDonald, Global Solution Marketing Director at Symphony RetailAI, revealed how crowdsourcing intel helped competitive intelligence become more prevalent at her company:
"One of the biggest jumps in our competitive program happened once we crowdsourced collecting intel.
"It allowed us to gather information at scale and ensured that information wasn't getting stuck within the minds of a few individuals. This provided our Marketing team with the means to strategically own CI."
How often do product marketers monitor competitors?
When we completed the Competitive Intelligence Trends 2020 report, all signs seem to be pointing to a landscape where the role of the product marketer is reduced - but not lost altogether.
Competitive intelligence in product marketing is still very much alive and kicking, with PMMs using it to reevaluate their pricing strategies, introduce new products, and refine existing features.
In 2021, we wanted to find out how often PMMs are thoroughly monitoring their competitors, and we were encouraged to find most said they check in on their competitors weekly (32.9%); a slight increase from 2020's figure of 29.4%.
One of the respondents in the 'Other' category indicated they complete competitive intelligence every single day, while at the other end of the spectrum, another said they only do it when it's needed.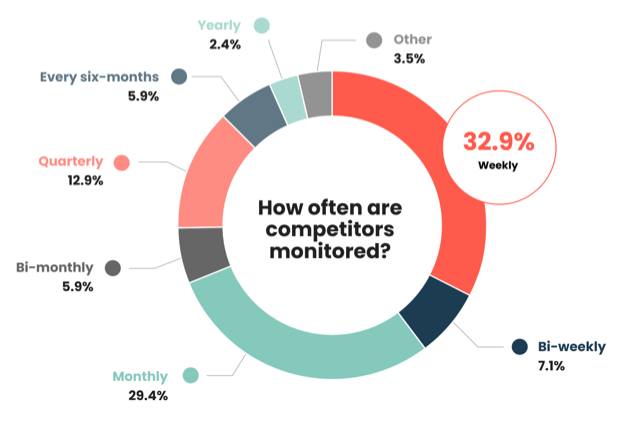 We picked the brains of Matt Tyrer, Head of CI, Data Management & SME at Commvault, who outlined how automating intel helped keep a tab on up-to-date market trends:
"Having an automated collection and consolidation of intel from a myriad of data sources allows me to stay on top of what's happening in the market, and ensures that I provide the best possible analysis of that information.  I send the latest information to the right people at the right time, allowing us to not only react but to be proactive and get ahead."
What are the core areas of focus?
We then switched our focus on what product marketing teams identify as their core priorities when checking out the activities of their competitors.
We've said it before, and we'll say it time and again - there's no such thing as a blanket approach when it comes to competitive intelligence; while the activity remains the same in the title, the objective varies from team to team.
Most of the respondents (91.8%) said their aim is to improve their product knowledge, while product positioning was identified as a motivator by 85.9% of product marketers we spoke with.
This didn't come as too much of a surprise, as this correlates with the trends we found in our 2020 report, in which product and positioning were also the leading areas of focus.
2021's set of statistics appear to suggest competitive intelligence is being used to understand the product, as opposed to the market, with percentages for product and positioning both increasing, albeit marginally, while responses pinpointing market and market strategy as core areas of focus have both decreased by 11.4% and 10.4%, respectively.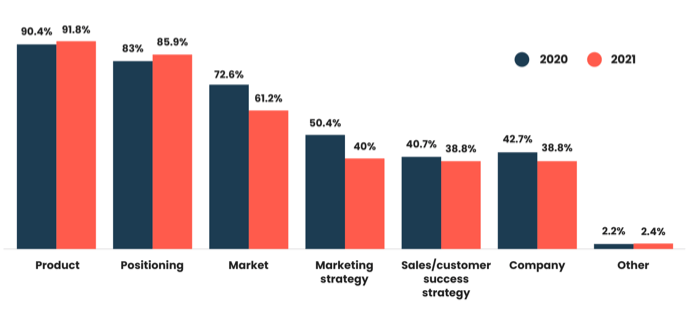 Fiona Finn, Director of Product Marketing at Unbounce, outlined how her team pays particular attention to differentiation when bringing a new product to market, and why product marketing should be considered a quintessential part of the CI process:
"When we launch a product, we know that differentiation is really important. There are so many new technologies out there, both indirect and direct competitors. That's why product marketing is really part of that ideation process right from the start."
How often are light spot-checks completed?
The most successful companies are those who continually check in on their competitors, before using their newfound knowledge to adapt their strategies.
There's a misconception amongst some product marketers that competitive intelligence consists solely of thorough, time-consuming research; this can serve as a deterrent when companies are weighing up the pros and cons, and in many cases, lead to the postponement of CI entirely.
However, light spot-checks are also keeping market contenders at arm's length, and form a crucial part of the competitive intelligence process.
Just below one-quarter of respondents said they complete light spot-checks a couple of times a week (23.6%). This marks a slight increase when compared to 2020's report, in which 19.3% of product marketers said they did this twice weekly.
Moreover, one-fifth (21.2%) indicated light spot-checks take place monthly, a 3.4% increase.

Are direct and indirect competitors being monitored?
When completing competitive intelligence, it's often assumed that the work stops when you track direct competitors, i.e. someone offering the same product or service within the same market - but this couldn't be further from the truth.
It's also essential to understand the threats posed by indirect competitors because, further down the line, they too can become a direct competitor.
So, it was encouraging to see this hasn't escaped the attention of the PMMs we spoke with, with most saying they monitor 10+ indirect competitors (36.5%), a slight increase from 2020's figure of 32.9%.
Conversely, most product marketers surveyed said they monitor five direct competitors (27.1%). This appears to suggest there's more of an emphasis on the market activity of indirect competitors, as opposed to direct rivals.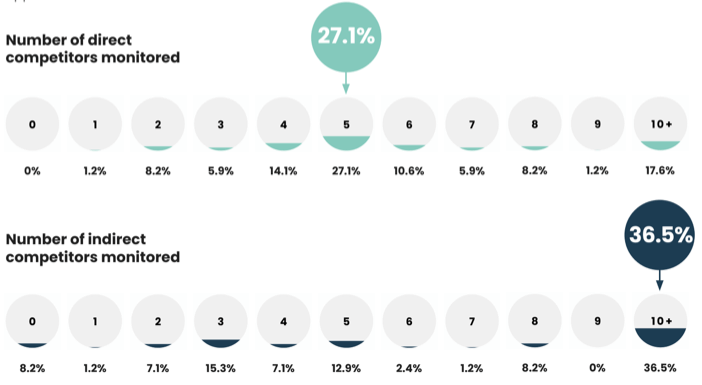 Attributing equal importance to both direct and indirect competitors played an unequivocal role in the success of many companies, as highlighted by Tirrah Switzer, Director of Product Marketing at Community Brands:
"The ability to monitor all competitors, not just our biggest threats, was very important to us in building our competitive program at Community Brands.
Having that intel on hand, even for just our own PMM team, makes it easy to quickly distribute to the field when they need it."
Methods used for competitive intelligence
Whether you're focusing on direct or indirect competitors, you need a suitable method to optimize your CI activities.
Press releases and media mentions were identified as the most popular sources of information, at 81.2%, while just over three-quarters of product marketers opted to manually check competitors' websites and marketing activities.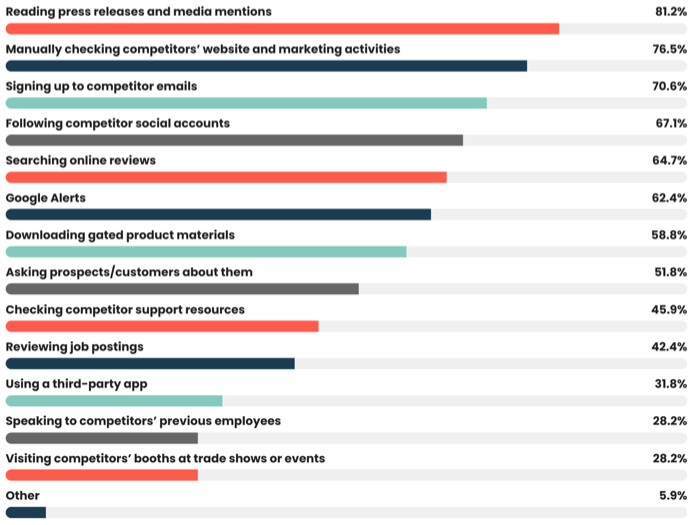 Tamara Schebel, VP of Product at Klue, acknowledged the breadth of CI resources available to product marketers, whilst also highlighting the importance of focusing on the facts that really matter and can bring optimum value to a CI program:
"There's a ton of publicly available competitive information out there - from the press and media - the challenge is that the time it takes to sift through that noise to find the intel that matters can take away from time spent finding more valuable information from your internal sources like field feedback, recorded sales conversations and win/loss programs. Getting beyond common knowledge about your competitors is critical."
How to improve competitive intelligence knowledge
As we've alluded to, competitive intelligence flags gaps in the market and can be used to improve your products and services, and give customers what they really want.
Competitive Intelligence Certified will help you refine your CI skills and hit the loftiest heights.
Delivered by Alex McDonnell, Market Intelligence Lead at Airtable, the 10 chapter, self-paced course features nine vetted templates and resources, over four hours of content, a host of exam questions, and official CI certification.
The course is your ticket to a string of takeaways, and will help you:
✅ Build a tech stack for competitive intel
✅ Conduct win/loss and primary research
✅ Visualize your competitive position with a market map
✅ Enable sales and customer success to deliver crisp competitive positioning
✅ Bring CI to the table in strategy and product decisions