Positioning is one of those foundational marketing activities that you need to get right. 😬
The consequences, positive or negative, flow downstream and impact everything from your sales reps' win rates to your development roadmap.
So how do you go about getting it right?
For starters, you need to ensure you're positioning competitively.
In this article, we'll discuss:
Let's get to it. 🤿
What is competitive positioning?
Competitive positioning is the most effective type of positioning strategy in marketing. That's because it takes the competitive environment, and the spaces your product is best placed to compete for within it, into full account.
"There is no positioning without competitive positioning."
~ Alex McDonnell, Competitive Intel and Product Marketing Lead at Airtable.
No product is sold in a vacuum, and it's impossible to effectively market your product without taking into account what your customers respect, like, and dislike about competing products.
When you position competitively, you stake a claim for a spot in the marketplace that's informed by competitive intelligence on your rivals. Armed with such intel, you can maximize your own strengths in the market, while exploiting competitor weaknesses, and speaking directly to the unmet, urgent needs of your target market.
Why is competitive positioning important?
You can't avoid competition
Competitive positioning is so important because it communicates to your customers the reasons they should choose you over your competitors, while showing an understanding of their problems and unmet needs.
It's said that nothing exists except by comparison, and (we'll say it again) no product is sold in a vacuum. No matter how unique you think your product or service is, your prospects will find something to compare you with.
It's up to you to take charge of the outcome of this inevitable comparison (competition) ahead of time, so it comes out in your favor. Competitive positioning sets you up to do that.
You have to make it clear to prospects where your product's value is and why they can't get similar benefits from competitor products. This makes it clear why your product is the best choice.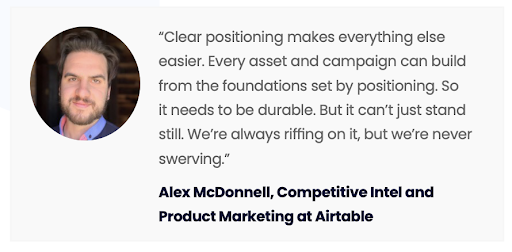 Ignoring competition is dangerous
But it's not just that you stand to gain by incorporating competitive positioning into your marketing strategy. You also stand to lose if you don't. Hear us out.
When you fail to position competitively, you risk misunderstanding your own product's strengths in your unique competitive environment, and setting your strong product up to fail.
We've all seen those vendors that claim to be "market leaders", with a product that's "best in class". Cookie cutter claims are never backed by evidence. Gathering evidence of your product's strengths would entail learning something concrete about those strengths, which you'd incorporate into your marketing messaging.
When you position competitively, you take charge of the narrative. The process gives you an understanding of the competitive landscape, of your own strengths and weaknesses in the eyes of your customers, and the routes to greater success that are open to you.
How to create a competitive positioning strategy
Now you know what competitive positioning is and why it's important. How do you implement it?
Positioning competitively requires reconnaissance up front. You'll need to develop a solid understanding of the market, your audience, your competitors, and your own product, as well as how all of these intersect.
1 - Your market
If you haven't already, you'll need to perform preliminary duties like market segmentation, creating ideal customer personas (ICPs), and getting clear on who your target audience is.
Even if yours is an established brand and product, having a single source of truth on exactly who you're targeting puts everyone on the same page. When you get new leads and prospects, your team will know exactly how to move forward. They'll know what keeps new adopters up at night, and what they're looking to get out of your product.
In turn, that means a more streamlined onboarding process, a more cohesive customer experience, and potentially lower churn rates as a result.
2 - Your audience
Now it's time to get more specific.
Any solid brand positioning strategy is built on a foundation of truth. That means learning—objectively—what your customers and prospects think about your brand, your product, and your competitors.
There's no substitute for speaking with these groups directly. In-depth, primary research is the name of the game here. Hold focus groups, customer interviews, and win/loss interviews with recent prospects on both sides of the finish line.
You're looking to understand what these groups think about:
What competing products do well.
Where competing products are dropping the ball.
Where your product shines.
Where your product could improve.
The needs they have that aren't being met by existing solutions.
This is by no means an exhaustive list of everything you can learn from these immensely valuable groups, but it's a great place to get started.

3 - Get to grips with competitor products
Ideally, you'd perform this step alongside step two but, since the customer comes first, and competitors sometimes get things wrong, we've placed this step third.
If you haven't already, you'll want to identify your core competitors at this point. A near-exhaustive list is helpful, but you'll need to spend some time tiering out these competitors so you can prioritize your efforts.
☝️
Note: this list should include indirect competitors and alternatives customers use to get the job done. Even if the product looks nothing like yours, you'll learn something by studying it.
At this stage, though, you should be looking to deliver more than a tiered list of competitors and alternatives.
You also need to learn all you can about competitor products. Deploy every competitive intelligence trick in the book to get your hands on as much data as you can, setting yourself up for quality analysis.
Relate your findings back to what you learned in step two, the customer research phase, for a solid understanding of:
Where competitor products are weak or strong.
Where they might be outperforming your own.
Any popular features they have in the market that you do not.
Where your own implementation of certain features is strong or inventive.
4 - Conduct a SWOT analysis
Some people roll their eyes at the thought of a SWOT analysis, so let's put it this way:
In light of your findings so far, which of your prospects' strongest needs are you most uniquely positioned to fill?
To answer that question, start by asking yourself:
🤔 Where are you strong where competitors are weak?
🙋‍♂️ Where do you shine in the eyes of your customers, where competitors struggle?
🧐 Which upcoming features do you have, or simple tweaks to your product can you make, that would increase your lead over these competitors?
🙅 Which competitors or alternatives are blocking certain avenues for you?
When you have answers to these questions, you'll be able to identify a vacant position in the market offering massive ROI if you can fill it successfully.
In other words, you'll have uncovered the most competitive position you can fill in the marketplace to maximize your revenue and growth potential.
💡
Tip:
If you need to compare yourself and your core competitors more closely across two metrics, a useful tool is the positioning map, also known as a
positioning matrix
.
From there, you'll need to work on defending that spot.
Winning such a unique position in the competitive landscape, and then defending it, comes down to creating a sustainable competitive advantage.
How to defend a winning position
Don't mix up competitive positioning with the various strategies for winning a competitive advantage.
Competitive positioning is the actionable process of positioning yourself in a contested marketplace and, as a process, can uncover the strategic position it makes most sense for you to try to occupy.
To actually get there, and hold that spot, you'll have to use one of the strategies outlined below 👇 (or ones like them) to beat out lower level competition and put your name on the map.
Four well-known competitive strategies are:
Product leadership: Product leadership strategies entail focusing resources on developing a better product than your rivals.
Cost leadership: Cost leadership strategies entail driving down costs, and passing those savings onto customers, to sustainably, profitably attract customers with lower prices.
Niche market advantage: Niche market strategies involve meeting the very specific needs of a small subset of one market segment
better than anyone else is able to.
Operational excellence: Strategies of operational excellence involve surpassing customer expectations. Usually by offering better service and experiences than competitors. This drives customer loyalty, brand trust, and advocacy among users.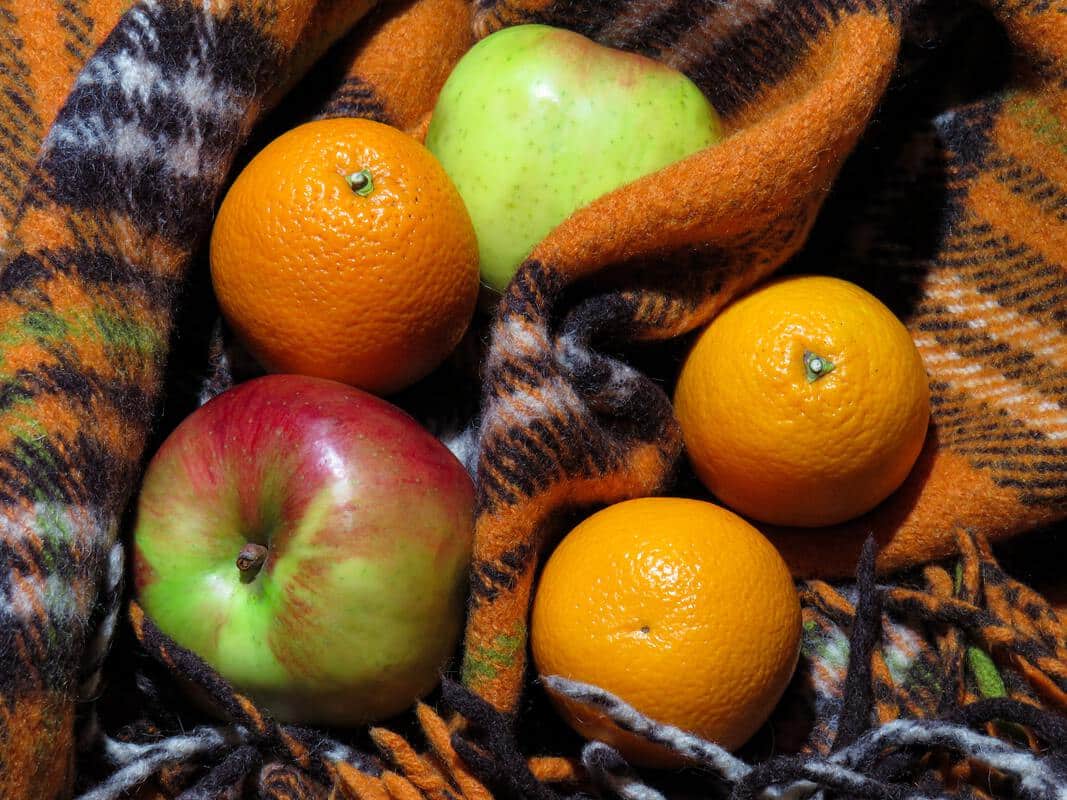 The competitive positioning "value zone"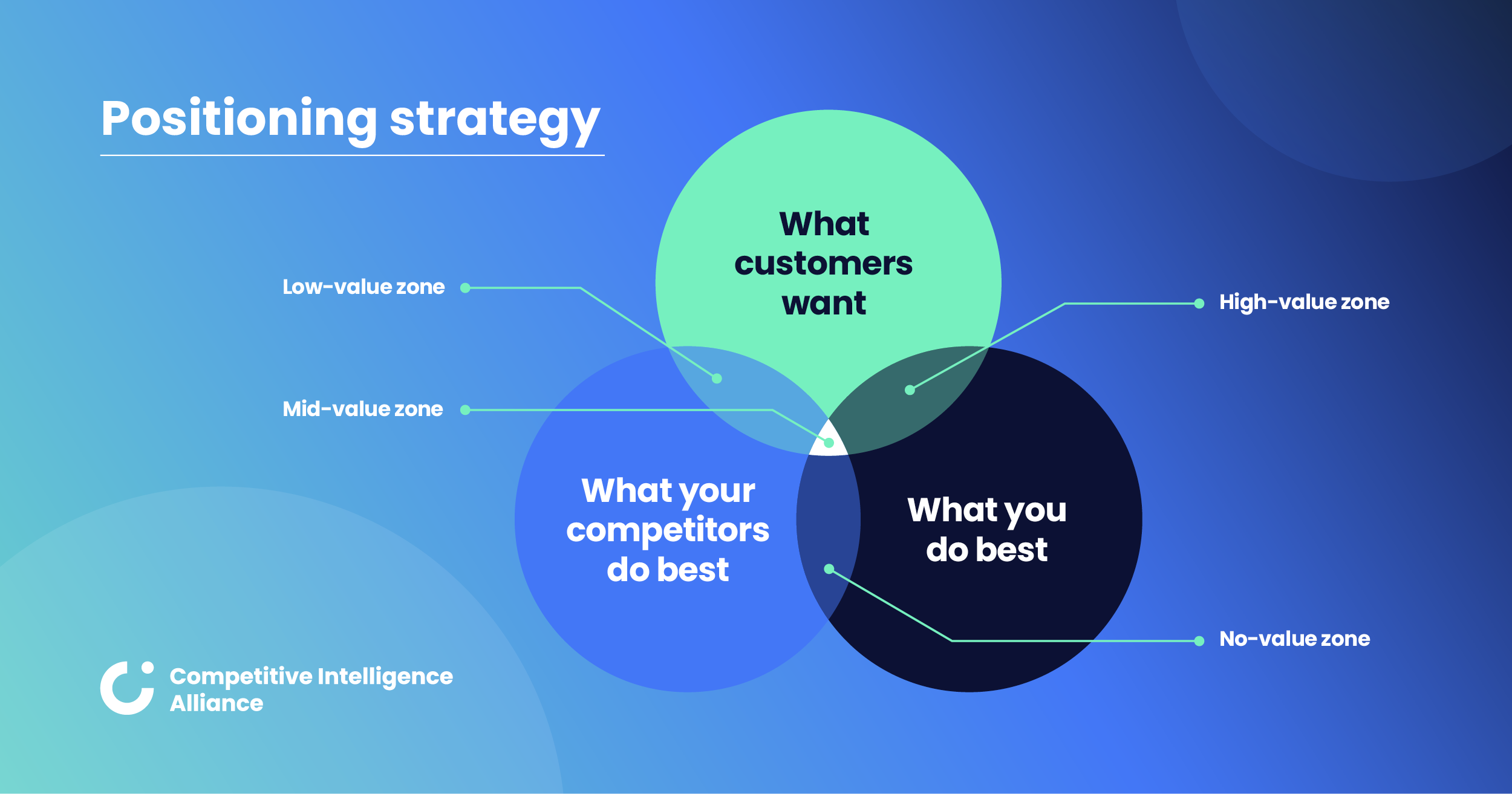 Let's dig into the above infographic a little more to drive home how competitive positioning works one last time.
Once you're done with the steps in the positioning process we outlined above, you'll have identified a high-value position for your brand to occupy.
This position should sit at the intersection of what you do best, with what your customers want, preferably while avoiding the things your competitors do well.
In short, you want to occupy a position that sits within either the mid-value or high-value zones in our diagram.
i) The high-value zone
There's often a temptation to assume you're playing in the high-value zone by default. Especially if others in the organization are dismissive of your competitors.
But there's no excuse for assuming you're strong, or that your competitors are weak, in any given area. You need to hear it from your customers.
When your research and analysis says you can position yourself in the high-value zone, do so. And make the most of it. The high-value zone necessarily shrinks as competitors imitate you.
No competitive edge can stay large for long. At least not without understanding your competitive advantage extremely well and defending it against imitation by cutting off your competitor's avenues of attack.
That means patenting or trademarking your intellectual property, or negotiating exclusive contracts with suppliers, for example.
ii) The mid-value zone
Mid-value zones are like swing states. A few votes in either direction can mean the difference between winning and losing the deal.
These are massively leveraged opportunities to impact revenue, where a few persuasive points in your favor could help you win a lot of mid-value deals or a few high-value deals.
It pays to invest here, but the fight will be constant as you and your competitors race to create the best solution and convince prospects.
iii) The low- and no-value zones
These are the zones where you're competing with very strong alternatives where your own offering is weak, or you're competing with a strong competitor for something the market isn't interested in.
Obviously, you shouldn't aim to position yourself in either the low-value or no-value zones, but don't forget about them altogether.
Audit your positioning at intervals to make sure you're not in danger of drifting into one of these zones as the competitive landscape shifts and new competitors enter the fold.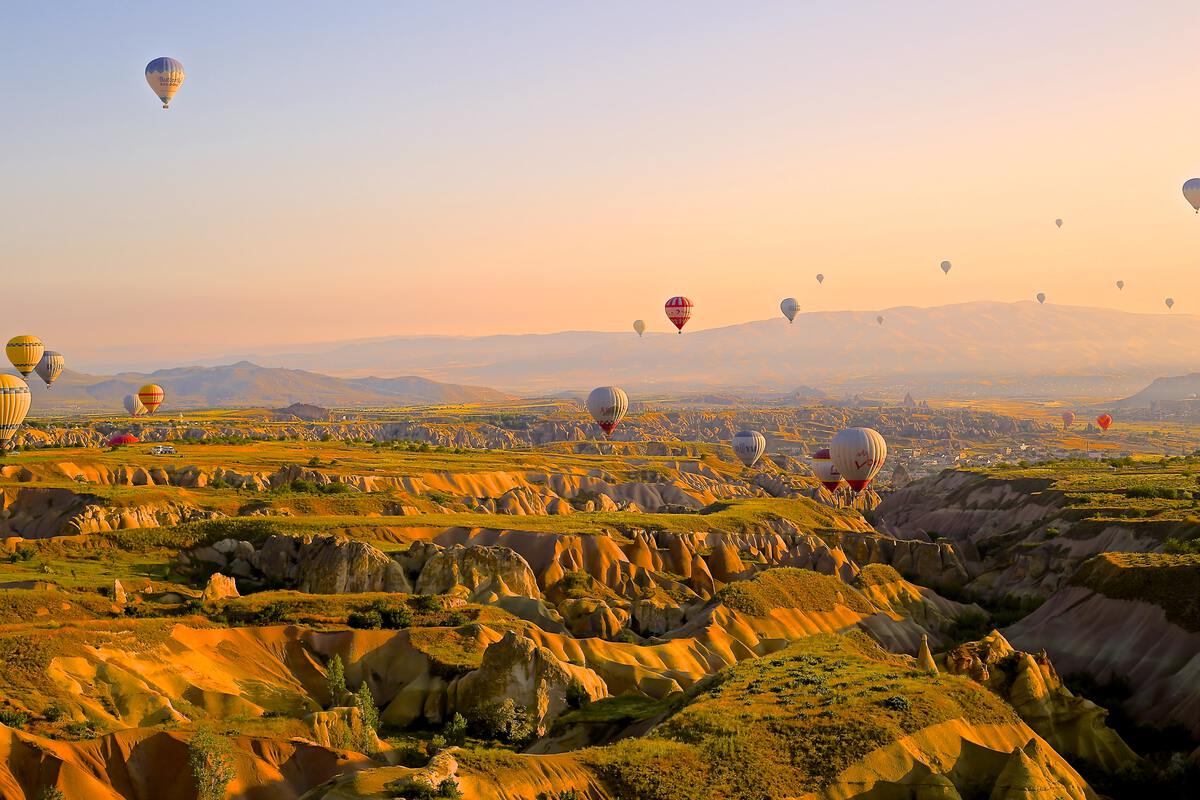 Examples of strong competitive positioning
The Gym Group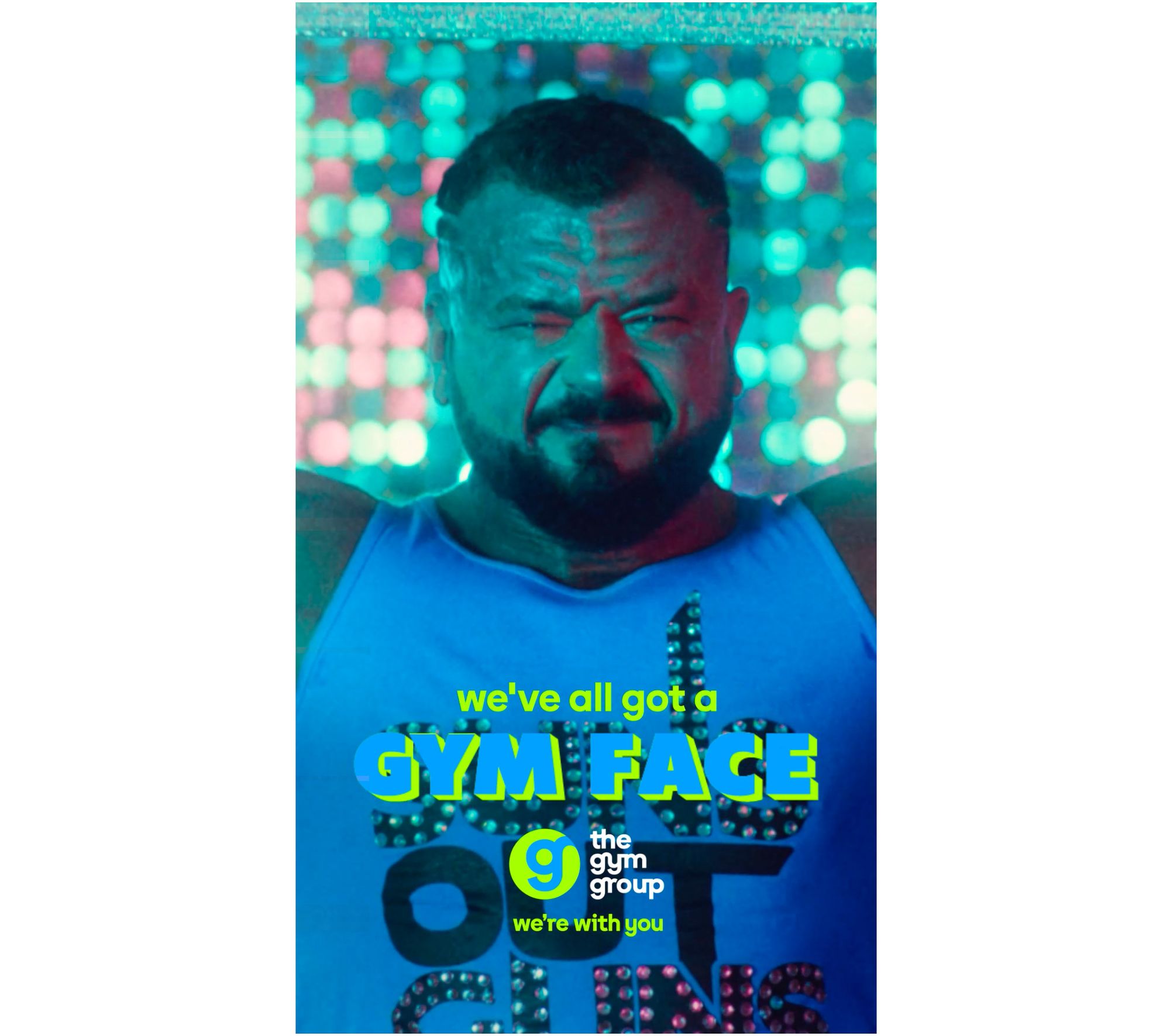 UK-based company The Gym Group understands the gym can be an intimidating place, especially for newcomers.
Their new 'gym face' campaign says that, no matter how experienced a gym-goer you are, you'll still pull a ridiculous face while you're exerting yourself. And that's ok.
The campaign communicates inclusive values and a desire to make their gyms an accessible place for everyone: "from gym experts to gym novices, everyone's got a gym face".
Feeling intimidated in the gym, and feeling small on your way out the door, are two strong reasons for a canceled membership. With a business model based on low prices and recurring, subscription-based revenue, The Gym Group is smart to boost the confidence of its bashful customers.
Sabian Cymbals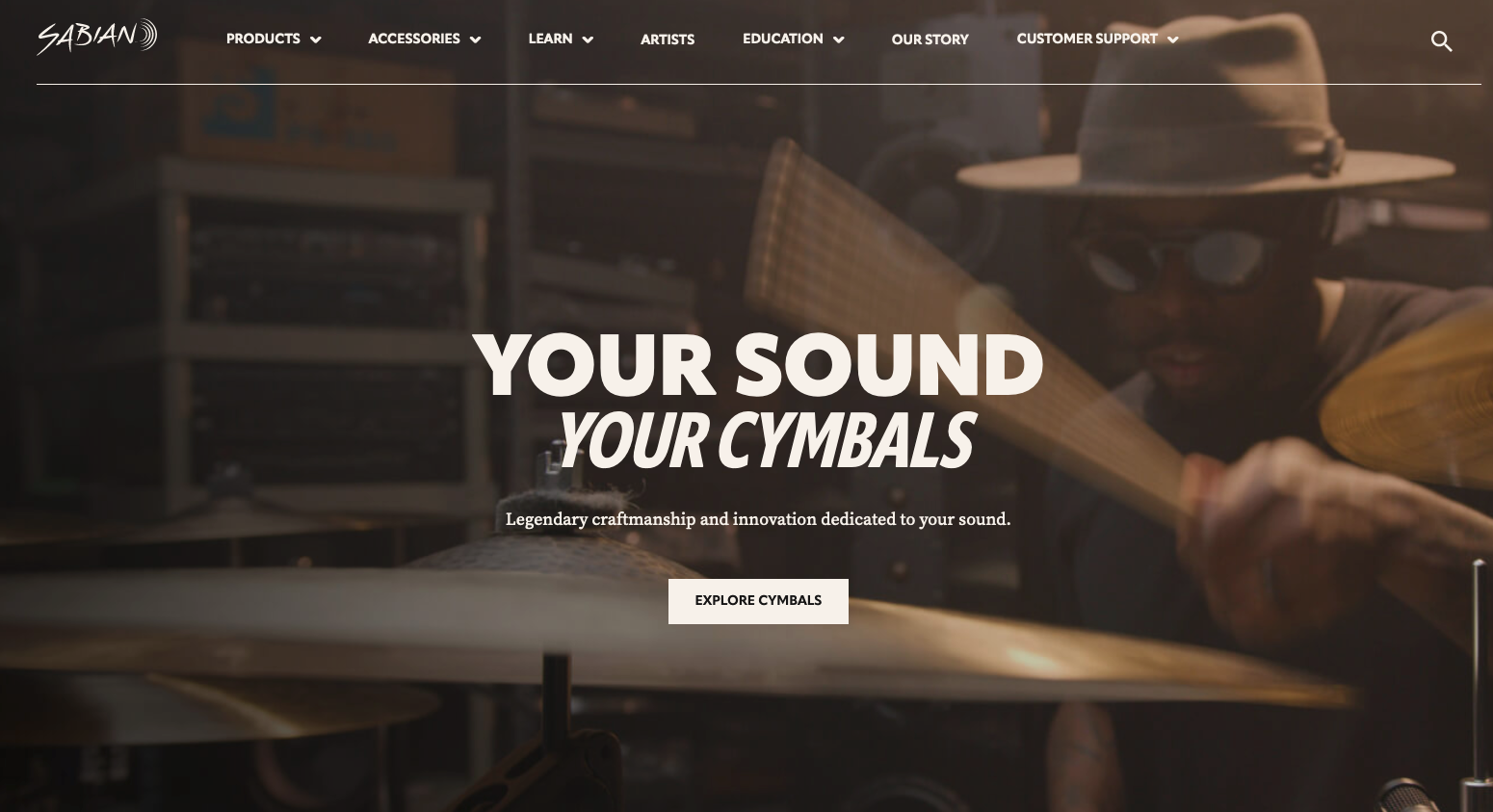 Sabian, one of two Turkish manufacturers (along with Zildjian) that kickstarted modern cymbal design, leans on themes of craftsmanship and innovation tailored to the player in its positioning.
This approach makes the most of Sabian's pedigree, while speaking to the desire of every musician: one of finding their unique, creative voice. The tagline, "Your sound, your cymbals", puts this personal approach front and center, showing a deep understanding of the musicians who make up their target audience.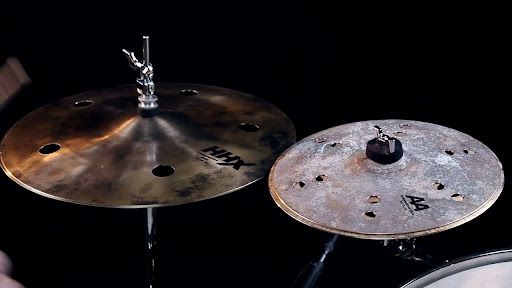 Nextiva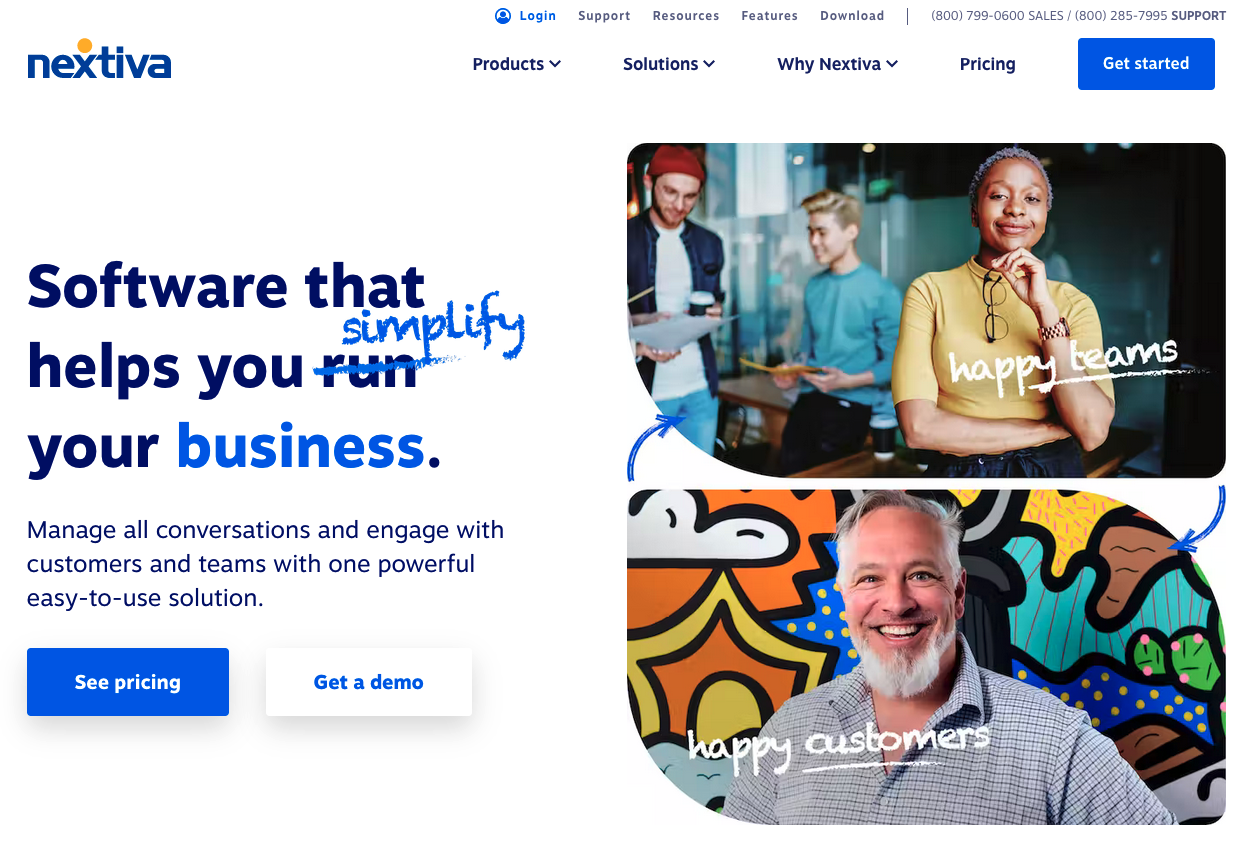 Nextiva knows that pulling together every customer touchpoint is a difficult task, but the strength of its product lies in its user experience and ability to simplify what could be a very complex experience.
Nextiva puts that experience front and center on its home page, with images of happy faces, happy customers, and a promise that its product will "simplify your business".
Some of Nextiva's (well-known) competitors offer products with notoriously difficult set-up and poor onboarding experiences. As a result, this promise of simplification will speak loudly to visitors who've dealt with these competitors before.
This is, at its heart, what competitive positioning is about.
---
Get The Competitive Positioning Playbook
Competitive insights can inform business strategy across all four corners of business. But when it comes to positioning your brand in a competitive market, there are pitfalls to sidestep, and best practices and processes to implement.
Inside the Competitive Positioning Playbook, we give you best practices and processes, covering:
⏰ How not to waste your internal resources and data sources to save yourself hours of time.
🧘 What "minimum viable positioning" is, and why it's a key milestone early in the process.
🙅‍♀️ The three steps you must not skip in crafting competitive positioning.
These aren't just our opinions - we consulted with some of the best in the industry to put together these insights. (Oh, and it won't cost you anything).
Intrigued? Grab your copy today. 👇
---