You're short on time. Where should you go for your CI? 🧐
We're of the opinion that…
…present four of the very best sources of competitive information out there.
It's a fact that some sources of CI, whether internal or external to the organization, offer more bang for your buck.
And, as Patrick Wall, Head of Competitive Intelligence at Imperva has told us, prioritization is a competitive intelligence professional's best friend.
Why should prioritizing your data sources be any different?
Read on to find out all about our four picks, why we chose them, and why you should be using them if you're not already.
1) Win/loss interviews ✅
There's no saving the best for last here. We're of the opinion that win/loss interviews are the competitive intelligence professional's single most effective source of actionable CI.
Here's why.
First, win/loss connects you with your sales team immediately. And when it comes to making an impact on revenue (your biggest priority), there's no better place to start than sales.
Second, it puts you in touch with the people whose opinions matter most: your customers. There's no guesswork involved. Your customers will tell you where you're dropping the ball versus your competitors.
And they can offer a ton more useful information to boot. For example, your latest feature that shows great potential? Maybe it's not solving your customers' problems in quite the right way. Who better to tell you that than your customers themselves?
Best of all, this market research costs very little (though the promise of a value exchange of some kind is unlikely to hurt your response rates and general willingness to share).
By leveraging this great, inexpensive resource, you'll be able to quickly gain valuable insights into what your product teams can improve, and how your product roadmap can be reshaped for maximum upfront impact.
How to conduct win/loss
Conducting win/loss interviews is simple. Put together a list of won and lost sales prospects from the last few months (or any timeframe that suits). Get them on the phone and ask them why they made the decisions they made.
Simple right?
Here are some tips for maximizing your win/loss ROI.
First of all, you'll want a pretty good spread of won and lost deals represented in the interviews you have lined up. And if you're targeting a number of different market segments, then you'll want to divide up your results accordingly so you can see how responses differ by segment.
💡
Note - segmenting your results like this will also be useful if you're testing against multiple different products.
In short, make sure you're using a fair sample. One that accurately reflects your target audience.
Secondly, you'll want to make sure you've a large enough sample size for meaningful data. Around 15-20 interviews should be enough. This is a manageable number, even if you're flying solo. But it's large enough for you to recognize anomalies and outlier feedback when they appear.
What's next?
So you've conducted your win/loss interviews.
Now, you'll use what you've learned to improve and optimize your sales process.
Hearing that customers like a competitor's version of a feature more than yours? Maybe they don't understand how yours is different. Brainstorm the best counter to make clear your feature differentiators. Use these to update your competitive battle cards and other sales enablement materials. Now the customer's sure to see the light.
Make your findings go further. Use them to inform your product roadmaps.
💡
Tip: be tactful in how you approach your product team with your findings.
But be mindful that product teams have to balance dozens of requests from across the business. The good news is, you have hard data on your side. But you're still competing with requests from other persuasive people (including leadership).
That's why it pays to get buy-in early from all corners of the business when it comes to your competitive intelligence program.
2) Competitive intelligence tools 🛠
Competitor analysis can be a big task.
That's why, if you've a bit of budget at your disposal, it pays to leverage pre-built solutions to take some of the pressure off.
Depending on your definition of a 'competitive intelligence tool', you've quite a deep pool of helpful software to make your life easier.
The good news is that any analysis tool that helps get you more high-quality competitor data can make your job a breeze while skyrocketing your results. That means your CRM, your call analysis software, and social listening tools, to name a few.
Social listening tools
When you hear 'competitive intelligence tool', this is probably what you think of first.
Social listening tools are like Google Alerts if they gobbled up one of those mushrooms from Super Mario. 🍄
Social listening tools monitor social platforms and the wider web for mentions of your competitors and/or specific keywords. Whenever a topic is discussed, it'll loop you in and log the mention for review.
These tools blend real-time updates with historical data. This allows you to asynchronously keep tabs on developments in the competitive landscape. Then you can batch your review into one task, which saves even more time.
Such intelligence software also automates a lot of the admin that comes with tracking info on your competitor's strategy. Machine learning and natural language processing (NLP) algorithms, working behind the scenes, are able to categorize new data more efficiently as time goes on.
CRM
CRMs like Hubspot and Salesforce are always chock full of information that can help you win against your competitors.
They contain so much data that, if you know how to crunch the numbers, it's actually difficult not to find an emerging pattern.
The info here can kickstart a hypothesis to explore in your win/loss interviews. Even something as simple as manually inputting notes against each customer can make for great historical data.
Look for patterns preceding customer churn, for example, to develop an early warning sign that you're losing a customer. Then make that actionable by enabling your retention team with counters to the competitors attracting your churning customers. This can help you retain customers before you're able to tweak your service to fix their issues.
Call analysis software
A call analytics tool records and analyzes your calls to offer metrics and insights into customer interactions.
This makes designing development plans for your customer success and sales reps a foolproof process.
This might not sound so much like 'competitive intelligence' as straight sales enablement, but the smartest software also offers strategic initiatives to your executives to help them win more deals.
3) Competitive SEO analysis 👩‍💻
Competitive SEO (search engine optimization) analyses give you a look into your rivals' content strategies. You can gain a bunch of insights into your competitors' activities with keyword research and position tracking metrics. These offer an early indicator of a shift in the target organization's content strategy and, perhaps, a shift in overall marketing strategy.
Since such shifts take budget to effect, they're often indicative of a strategic change. One spurred by the release of a new product, or a play for some new market segment, perhaps.
But keyword research isn't all competitive SEO tools have to offer.
The best can offer insights into your competitor's PPC strategy, organic and paid website traffic, backlink profile, and more.
Particularly useful are the metrics on a website's internal linking structure. Webmasters have a ton of control over a website's internal link profile and tend to use it to strategically influence Google's perception of each page's relative importance on the site. Pages with many internal links are likely key pages. The content on those pages should tell you what the competitor values. New pages that fit this description act as a possible indicator of some new development or investment by your competitor.
How to conduct a competitive SEO analysis
SEO tools are complicated beasts.
While there are many ways you can conduct a competitive analysis, here are a couple of actionable workflows for two of the most popular SEO tools: Ahrefs and Semrush.
Ahrefs
SEO tools can offer valuable insights into your competitors' SEO and content strategies. Ahrefs is no exception.
To get started conducting an organic traffic analysis on one of your competitors, head to the Site Explorer tool and search for the domain of the website you're interested in.

Add a number of competitors to compare their performance across a number of metrics over time, including organic traffic, the number of referring domains, and paid traffic.

Click the 'organic keywords' number to see the organic keywords your competitor ranks for.
You can get pretty granular here.
We've filtered out navigational queries by excluding the domain name itself from the search query. Then, we sorted by Traffic to see the keywords bringing the site the most traffic first, and filtered out any keyword with a CPC lower than 1.00.
This shows you the keywords (and associated pages) bringing in a good amount of high-value traffic to the competitor. You can start tracking these keywords to periodically compare them with newer lists in the future, to easily identify new pages and products bringing our competitors a lot of traffic. You can use that information to set up competing pages and try to grab some of that traffic for yourself.
Semrush
The method in Semrush is similar.
Head to the Organic Research tool and search for the competitor you're interested in.

In the bottom-left of the results dashboard, click "View all organic keywords".
From here, you can apply all the same filters as we used in Ahrefs to identify high-value, high-traffic keywords.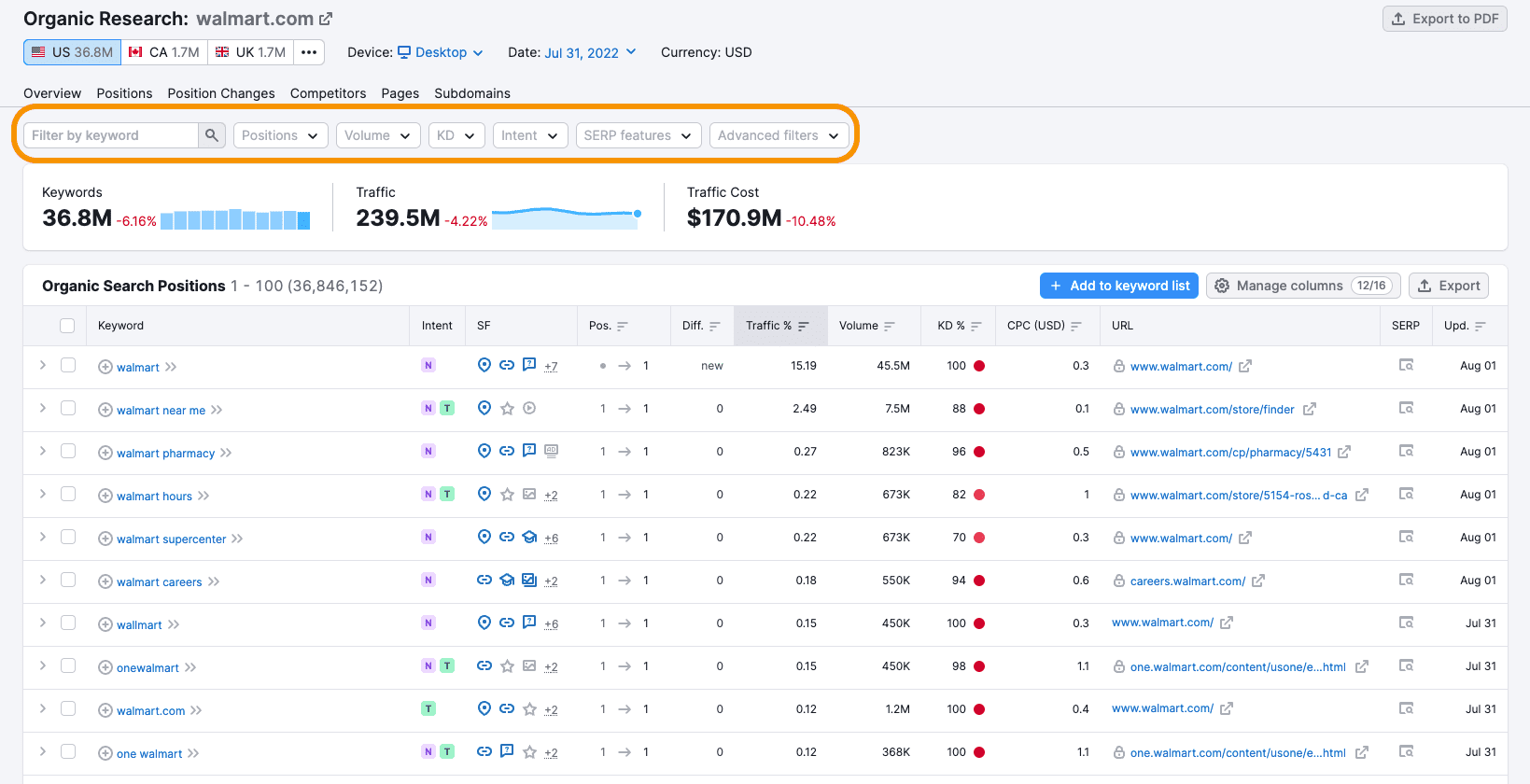 4) Competitor Websites 🕸
We couldn't let ourselves get away with not mentioning a good old-fashioned hunt around your competitors' websites.
If you've a great social listening tool or competitive intelligence platform on your side, it'll inspect competitor websites for you.
But if your budget's tight and you're looking for a great bang-for-your-buck source of solid competitor information, you could do much worse than looking around manually.
Competitor websites are a hub of feature announcements, product documentation, competitive pricing intelligence, and more. They're a modern-day brochure for all things related to your competitor's products and services.
But that's not all.
Digital marketing relies heavily on content to educate, inform, and advertise to various market segments. As a result, most online businesses have a content marketing strategy. This means your competitors' websites double as a content library to inform and educate you on their products and any changes or feature updates.
This is what makes them such a goldmine for market intelligence. Even external news and press releases are often mirrored on the website, so you never have to move far to capture the data you need.
💡
Tip: Use Google Advanced Search functions to find downloadable product documents in the SERPs. "<competitor name> filetype:pdf".
We know. It seems backward to hunt for information manually when there are ways to automate it.
But if you've effectively prioritized your competitors, the list of websites you have to search through won't be long. And, since everything's in one place and websites often show their newest content upfront, you won't have to search hard for the most pertinent information. With so much valuable data available, this method is one of the most overlooked and valuable available to you.
What about other data sources?
Of course, there are plenty of internal and external data sources we haven't covered. Simply following your competitors on social media is a great way to stay abreast of updates, announcements, and developments, for example. But a great social listening tool will handle all of that for you. As will a quick browse of your competitor's website.
Community forums and customer reviews are also great places to look for information. However, since all the information is so disparate, and much will be generic, a sequence of targeted win/loss interviews usually represents a better use of your time. If you've the resources to do both, do both. Otherwise, prioritize!
Notice, too, how we didn't mention free trials of competitor products. We've said this before, but since you're not the customer, it's very difficult for you to take an objective stance on the strengths and weaknesses of the product you're trialing. Win/loss interviews and other forms of direct customer feedback on competitor products (and where they're beating yours) are more valuable.
---
What's next?
Of all the possible ways to gain a competitive advantage, you could do much worse than starting with these.
So if you're a bit overwhelmed by all the options out there, give these your all and get back to us. We'd love to know how you get on!
Wondering how you can stay in touch?
Sign up for our competitive intelligence Slack workspace, a vibrant community where you can upskill, knowledge share, and rub shoulders with some of the best minds in CI. 👇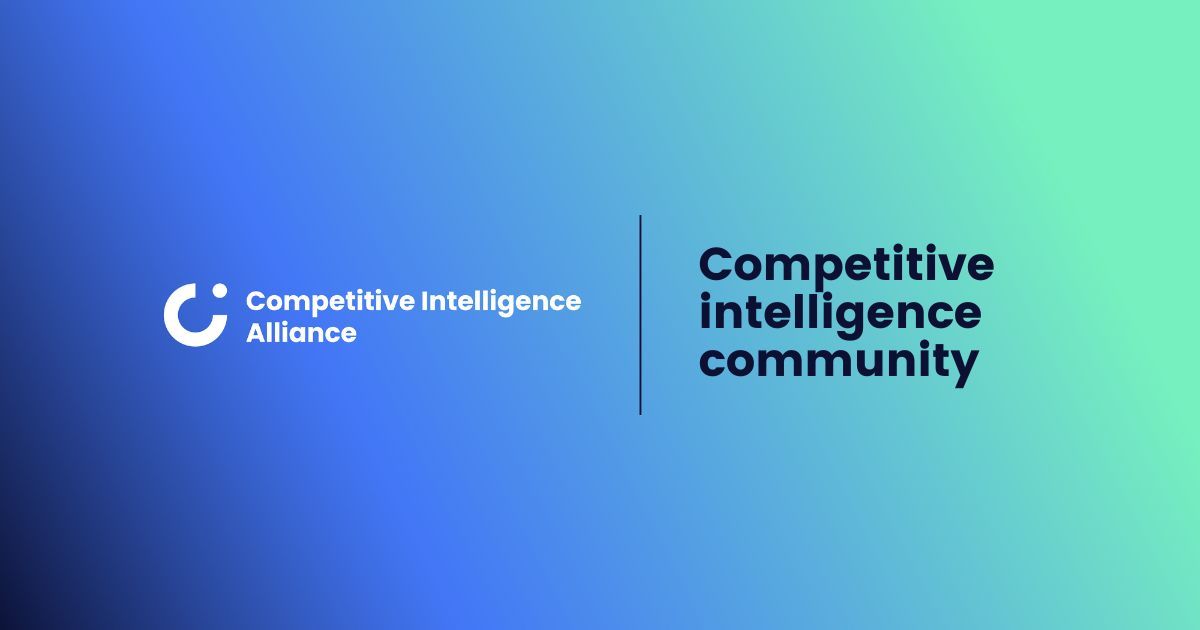 ---