A meaningful competitive intelligence program is key to staying ahead of the market, but how can you demonstrate its value to your stakeholders? And what KPIs should you be tracking?
To get to the bottom of these questions, Erik Mansur, VP of Product Marketing at Crayon is joined by Fiona Finn, Director of Product Marketing at Jane.app and a veteran of such companies as Unbounce and Clio.
Erik and Fiona have an insightful conversation about how to effectively measure the success of your competitive intelligence efforts, the confidence that a product marketer can have in their metrics, and the part that both tangible and intangible metrics have to play. They even have a little chat about the Spice Girls.
Read on to find out about…
The value of competitive intelligence in product marketing
Q: How long have you been a competitive intelligence maven, and how does CI help you achieve your goals as a product marketer?
A: I would say that CI has pretty much always been a part of my role. At Jane, I'm using competitive intelligence for my own purpose of learning the landscape and getting a feel for what's out there and what's standard in terms of pricing, packaging, and feature sets. That's really me using competitive intelligence to level up my own know-how of the industry.
The next phase of leveraging competitive intelligence at Jane will be taking those insights and figuring out how we can create a go-to-market strategy that differentiates us from the other players.
So I think that competitive intel can be used for your personal goals of leveling up your know-how and your confidence in your market. Then you can use that confidence and knowledge to support your product team to build a better product, support your sales team to win more deals, and give your marketing team insights that can be translated into impactful messaging.
By nature, a lot of product marketers are very curious people, and that curiosity goes hand in hand with wanting to understand what's happening in the market. The important thing is to take all that information and distill it into actionable insights that help people do their jobs better.
That intel can be transformed into a great message, a great campaign, and a great onboarding experience, so your customers get value from the information you're uncovering as well.
The tangible and intangible impacts of competitive intelligence
Q: It's great that you use the term "value" there because competitive intelligence is often described exactly how you framed it.
The product marketer does pricing, packaging, and positioning – the three P's of Product Marketing – which are mainly focused on the end-user, while competitive intelligence is focused on an internal set of stakeholders and the value they can get from market information.
How are you measuring that value and getting the feedback that shows you're pulling the right levers and appealing to those internal audiences?
A: I like to think about value in terms of the tangible and intangible wins that come with competitive intelligence.
The tangible wins are the measurable impacts. They're the difference that your work makes for the business as a whole. You can measure that and see change over time. You might see your win rate or churn metrics changing, or you might be able to manage conversations with clients better.
I personally love the intangible wins, the harder-to-measure ones. That's the feeling that you get when a competitor's name is mentioned in a conversation and the energy in a room is different.
When you're not doing a great job of competitive intel or your program is less mature, a competitor's name being mentioned gives that sense of anxiety. That's because we're not in control, and we don't know how to respond.
As you feel your output getting traction and you find that the work that you're doing for competitive intelligence is working, that changes. When a competitor's name is mentioned, people should feel confident because they know who they are, they know where they stand, and they know how to manage that conversation.
That's a very intangible thing, but ultimately, that's when I know my competitive intel work is on the right path.
---
---
Proving the value of competitive intel with KPIs
Q: You talked earlier about win rate and some of the other metrics you use to measure the value of a CI program. What other KPIs have you identified that can show you it's time to either pull back or double down on competitive intel?
A: It depends on your go-to-market strategy and whether you're product-led or sales-led. From there, it's important to look at measurable inputs and outcomes.
In a more traditional sales-led organization, one of the key metrics I like to look at alongside win rate is average revenue per account. Are you not only closing a deal but closing it in a meaningful way that gets the most revenue potential possible?
I like to look at churn as well because competitive intelligence should be looked at not just from an acquisition standpoint, but also from a customer retention standpoint. Perhaps the CS person is having a conversation with a client who thinks that another tool dies a certain job better, but in actuality, it doesn't. If they have that knowledge, they can navigate that conversation differently.
Aligning with your sales team to make sure that people are generally hitting their quotas is great, too. If we don't know enough about our competitors, people will miss their targets. Then it becomes a question of if we can invest in our competitive program and make sure that everyone is more successful.
At the end of the day, it is a team effort. You need to understand your role in the team and make sure that you can have those shared measurable wins.
Arming customer success teams with competitive intelligence
Q: You mentioned the value of intelligence for combatting churn from a customer success perspective. That's interesting because in Crayon's 2022 State of Competitive Intelligence Survey, 5% of those surveyed do not believe that their customer success team is an important stakeholder in competitive intelligence. It's great news that 95% of other respondents said that CS is very important or somewhat important in competitive intelligence.
However, it also means that 5% of customer success organizations are leaving their flank open. They don't know if there are sharks in the water, and they're ill-equipped to be able to address that competitive pressure. By paying attention to negative churn, you're equipping your customer success team with a shield.
How do you think about measuring churn? Is a customer success team aware when their customers' eyes are wandering, and do they know the right questions to ask? And what kind of impact can that have on renewal opportunities?
A: It depends on the structure of your CS team. If you have a super mature CS team with customer success managers who have direct interactions with customers, they should be receiving more or less the same CI training as your outbound and closing team members. They need to be in the know about who else is out there and what customers might be hearing.
You also want to make sure that a customer isn't having one conversation with a sales rep and another conversation with CSM. How you position yourself against a competitor should be consistent for every single role within the organization.
But back to your question, I think arming CSMs with a high level of information is essential. We know that people in customer-facing roles have so much going on. They're trying to be experts on the product and the customer already; layering competitors on top of that is a lot to ask. But if there is a way to do a quick summary of the most important things to be aware of, you can bet that they will remember those and bring them up with customers when the timing is right.
You can also automate retention activities to be inclusive of competitive intel, through solutions like Writeback. When someone is leaving you for a competitor, you can offer a compelling reason to stay within your automated communication process. That's a really easy way to integrate competitive intel into your CS and retention programs.
---

---
Aligning with other stakeholders on the metrics of success
Q: Have you identified motivators for any other stakeholders within your organization and aligned your KPIs with theirs?
A: For sure. Working with product is always important. I think that increasing product-market fit, whether measured or not, should always be a shared goal between your marketing and product teams. You need to make sure that you're looking at the right market to penetrate. Then making sure that you're building things that will allow you to capture that market share is important.
Competitors play an important role in that because they may exist in that market and you may want to compete with them, or they might be on your tail and trying to compete with you. Your product team is always going to want to be aware of the benchmarks they should be working towards. Arming them with that information to increase your product-market fit in a meaningful way is vital.
Q: Interesting. So speed to market on features is the KPI that your product team is looking for, and that's about user efficiency, but also efficiency in getting new features and beating the competitor to market?
A: Absolutely. A lot of the time, we're not reinventing the wheel in SaaS. There are solutions out there; you just want to make sure that you are building the best solution for your customer, and you can take inspiration from others around you as needed.
It could also be that you want to differentiate and not make the mistakes of others, so that you can have the best solution in the market for your customers in the most efficient way possible.
Aligning with the Spice Girls (aka the C-suite)
Q: Other vital stakeholders within the organization are those in the C-suite, your executive leadership, or your board of directors. They want to have some understanding of what the market and your competitors are up to, and that, I believe, is a little bit more difficult to measure tangibly.
Do you find that there is some sort of intangible value you can get from equipping your executive leadership with competitive intelligence? They might not be inclined to take a survey, so how do you measure the value for those with a "C" in their title?
A: I think I've made this comparison before – sometimes your C-suite is kind of like the Spice Girls. Everyone has character and style. Your sales lead might be Sporty Spice, very laser-focused on their goals. Then there might be an empath on the marketing team that's softer and maybe a bit more like Baby Spice.
Although they're different characters, their goal is probably the same. They want growth for their company, and to build a great brand and a great product that has great rev share. And then there are going to be various key inputs to those core outcomes that matter more to the different players.
What I have done in the past – and I've done this both for competitive intel and for tricky projects like pricing and monetization – is not necessarily surveying the C-suite, but writing down a list of outcomes that you could get from a program.
I'll use a competitive intel program as an example. So I would say "Okay, we're going to invest six weeks, X budget, and X resources in competitive intel. What are the highest priorities for you?" and write down a list of both tangible and intangible metrics.
Those metrics could include increasing rev share, increasing ARPA, reducing churn, increasing internal confidence, and so on. I make sure I have a succinct but powerful list of priorities and ask the C-suite to vote on those.
It's not going to be possible to do everything on that list so I come back to the C-suite with the top three outcomes that they want to get from the CI program. Sometimes, you might have to disagree and commit to one priority over another, or you might want to squeeze in another one.
The important thing is to make sure that they're on the same page before you launch into any research, investment, or large-scale program. They should know what outcome to expect, and then you're going to have them bought into anything that happens after that.
Q: I cannot believe that your answer included a mention of my personal favorite Spice Girl, Melanie Chisholm!
So what you've basically done is create a measurement by way of OKR. You've said to your executive leadership team, you define the objectives, and then we will measure the key results against that objective, as opposed to walking into a sales organization where you can presume that there are certain metrics that you're going to look to achieve.
How do you start that conversation? If you're coming into a new company, like you've just done, do you have to build rapport first, or do you hit the ground running and say, "Okay, guys and gals, I'm here, what do you need me to do?"
I tend to lean on the side of asking for forgiveness, not permission. You're there to do a job because you have a unique or different set of skills from those around you, so jump right in.
You are the expert on the market, you are the voice of the customer, you have your eyes on the competition, and people are looking to you to be that expert. So just get started. Ask the leadership what's most important for them to learn, get that information, and start to structure a program around that.
The future of competitive intelligence ROI
Q: What does the future hold for measurements of ROI  in competitive intelligence? Do you feel that there is another shoe yet to drop? Is there soon to be a disruptive software startup that helps measure the effectiveness of competitive intelligence efforts?
A: I see the future of CI being less of a long-term measurable program and more something that is incorporated into everyday business insights. We're living in a world where technology is changing so fast, our situations are constantly changing, and disruption is normal. Measuring things on an annual basis when it comes to CI just isn't enough.
Constant metrics that show themselves by osmosis are going to be the difference-maker for businesses of every size. If you can do reporting and integrate that into Slack so it's shared with your team daily, your metrics are going to be front of mind for everybody. Measurements integrated into your day-to-day – I think they're going to be the biggest change.
Q: Fiona, this has been wonderful. Thank you so much for joining us.
A: Thank you so much. It was a pleasure.
---
Enjoy hearing from the experts?
Good news...
We know where they hang out.
Join the CIA competitive intelligence Slack community for direct access to some of the brightest minds in the biz. 👇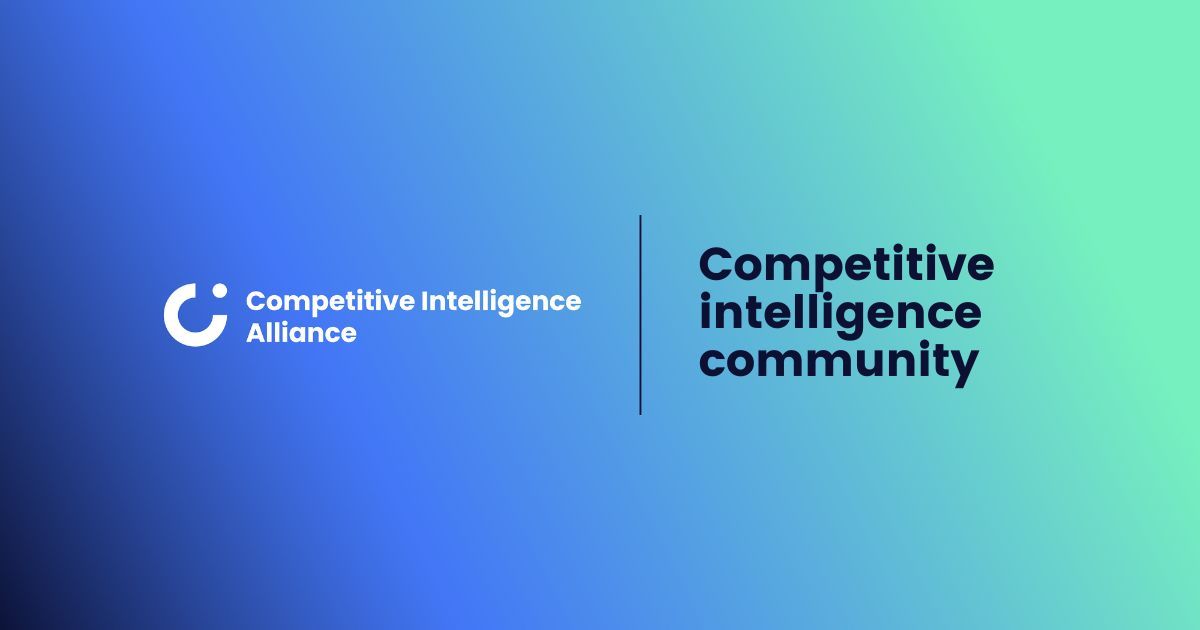 ---