We've said it before: sales enablement sits right next to revenue.
With so much opportunity to impact the bottom line, there's some eyebrow-raising compensation attached to successful sales enablement positions, with the average sales enablement manager earning $120,000.
So, whether you're coming from competitive intelligence, product marketing, or sales itself, a sales enablement manager position could be a great next step for your career path.
Read on to find out:
What a sales enablement manager does.
The qualifications you'll need for the role.
The skills to develop if you want to excel.
What a sales enablement manager gets paid.
But first, some definitions…
What is the role of sales enablement?
Sales enablement is a marketing role focused on deal support. That means creating marketing collateral to help sales teams win more deals. Marketers spend a lot of their time thinking hard about product positioning, effective messaging, and the competitive landscape. Sales enablement practitioners work to bring that understanding to sales reps.
What is a sales enablement manager? 🧑‍💼
A sales enablement manager creates enablement initiatives to drive revenue growth. They manage a sales enablement team, or a group of relevant stakeholders, to see these initiatives through. The end goal is to create learning materials and resources that help sales win more deals.
Is sales enablement part of marketing?
Who owns sales enablement? The truth is sales enablement sits at the intersection of sales and marketing. The successful sales enablement professional will act as a liaison between both groups.
They'll distill marketing's knowledge of the product, and the competitive landscape, into a form that sales teams can use.
What do sales managers get paid? 💰
Ok, that's it for definitions.
What about the money?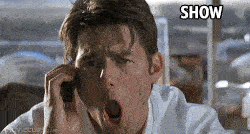 Our friends over at SEC put together this amazing Sales Enablement Salary Survey. Here are some stats:
The average base salary of sales enablement professionals, regardless of gender, job title, or any other factor is $119,228.
The average salary of a sales enablement manager, regardless of location or any other factor, was $122,753.
The base salary range submitted by survey respondents varied widely, from as low as $15,000 to over $200,000.
More than 75% of all respondents reported receiving some sort of bonus or commission in addition to their base salary. So, successful sales enablement managers can look forward to such perks as well.
Sales enablement practitioners in North America receive the highest average base salary; almost $20k more than those in Europe.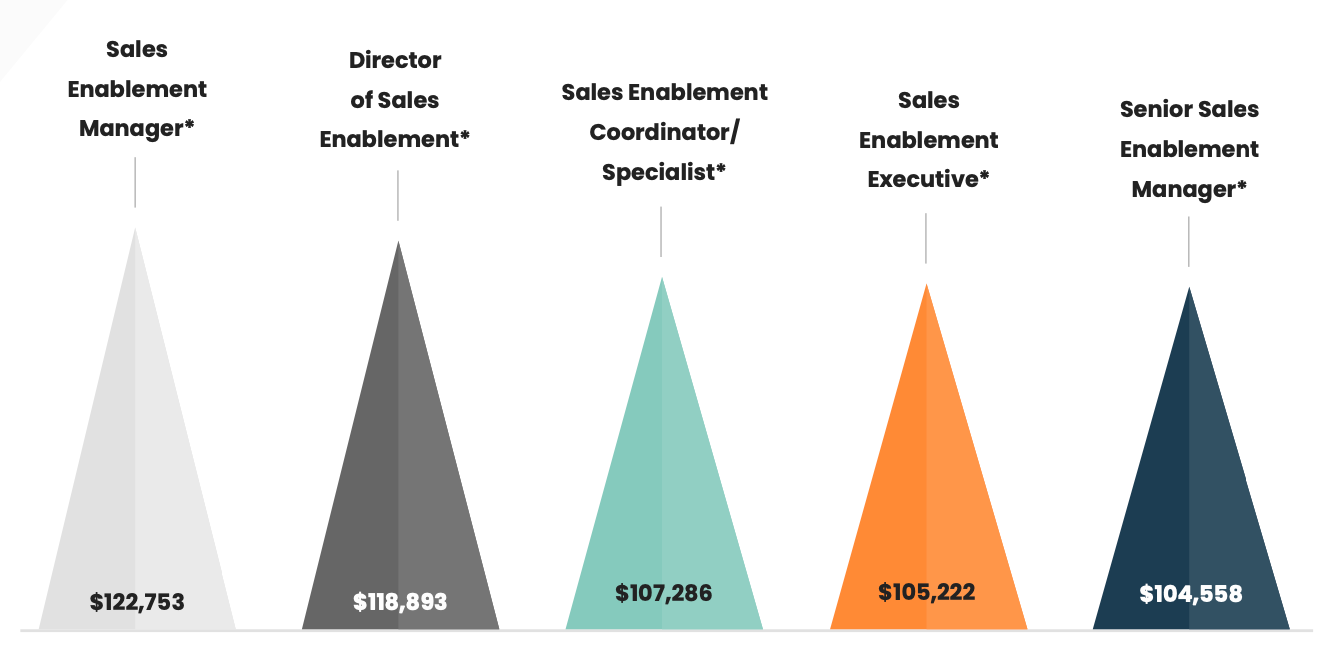 Sales enablement manager job description and responsibilities 🫡
Ok.
So what would you really be doing all day?
We've looked through dozens of job listings for sales enablement managers, and it's safe to say we've distilled the role to its core.
Here's  what you can expect from the role:
Generate new insights
Sales enablement is a data-driven role.
This data will often be tabular in nature (think spreadsheets), but just as often it'll take the form of verbal feedback. This feedback will come from discussions and brainstorming sessions with colleagues.
It'll be up to you to gather this data and analyze it for new insights into the sales process.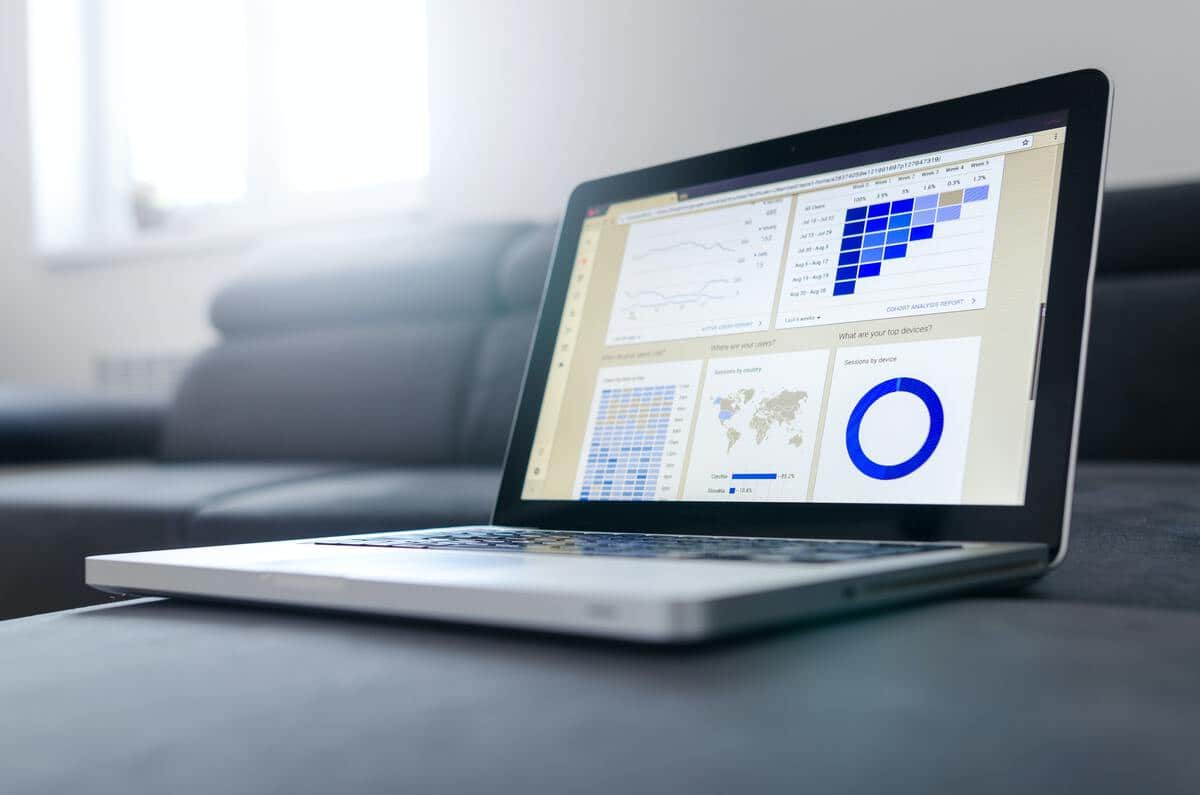 Improve sales processes
Of course, your new insights won't just be interesting talking points at the next Christmas party.
These insights need to make a real impact on revenue.
So you'll use your analysis to identify opportunities for improvement within each stage of the sales cycle. And as you make incremental improvements to the sales process, you'll need to test and evaluate your sales metrics for results. This means tracking, gathering, and analyzing more data as you go.
You'll also feed this information back to the marketing manager as you gain crucial insights into the effectiveness of your messaging and product positioning.
Manage and create learning materials
Once you've identified an area for improvement, you'll need to brainstorm a solution to the problem and feed that back to sales teams in a form they can use.
This often means creating a competitive battle card. But, it might also take the form of a training session or seminar. Most of the time you'll need both.
You'll also want reference material or memory aids to help your sales reps when they're on calls, and training sessions to make sure they're aware of how to use them.
Design, develop and deploy key enablement programs.
All in all, the above steps constitute separate parts of a cohesive 'enablement program'.
Your success as a sales enablement manager depends on your ability to perform each of these responsibilities well.
Designing, developing, deploying, and overseeing these enablement programs will be your bread and butter. You'll own the process end-to-end and be responsible for the ultimate results of your initiatives.
Report to the leadership team
With a big project out of the way, who do you report to?
You'll be working closely with others at the managerial level, including the marketing manager, product manager, and perhaps a sales manager as well.
But since your role can (and should) impact revenue in a big way, you'll probably be reporting to the leadership team.
If you haven't worked closely with leadership before, this means delivering a high-level overview of your objectives and results, as well as a basic rationale on how your initiatives tie in with company goals.
Necessary qualifications and experience 🎓
Here are some of the required qualifications we saw crop up in job listings:
Three or more years of experience in sales management, sales operations, or B2B marketing (though some job listings specified 10+ years of experience).
Experience working with customer-facing teams.
Experience mentoring and onboarding junior staff.
Bachelor's degree in marketing or sales, or equivalent experience.
Proven experience in revenue-facing teams.
And some nice-to-haves:
Experience working in a start-up or 'fast-paced' environment.
Ability to 'change gears', switching between high-level strategy and in-the-trenches implementation.
Experience with spreadsheets and reporting software.
Ability to work with large volumes of CRM data.
What skills do you need for sales enablement? 🔺
And here's the lowdown on the skills you'll need to smash your next sales enablement role. 🤩
Communication skills
No surprises here.
Living at the intersection between two very different departments (marketing and sales), you'll need the communication skills to get the knowledge you need quickly and effectively whilst keeping everyone around you happy.
This includes presentation skills and the ability to communicate a message effectively to an audience. As a sales enablement manager, it's your job to make sure the insights you're generating are applied. And that starts with understanding.
If the sales team doesn't see the value in the insights you're bringing them or doesn't understand how to implement them in real-time, then you've got a problem. That's why conducting sales training with your team, even if it's not expected, is something that you should be doing.
But there's a third area that will demand great communication skills.
Though many marketing roles aren't customer-facing, sales executives are on the phone with customers all day. As a sales enablement manager, you'll reap the rewards if you can communicate as effectively with customers themselves as you can with your internal stakeholders.
Critical thinking skills
If there's a part of your sales process that's not working, it'll be your job to figure out why.
Your purpose as sales enablement manager is to improve your sales team's performance. And that means gathering information, identifying weaknesses, and figuring out how to eliminate those weaknesses while strengthening existing processes.
So your problem-solving and critical thinking skills will go a long way.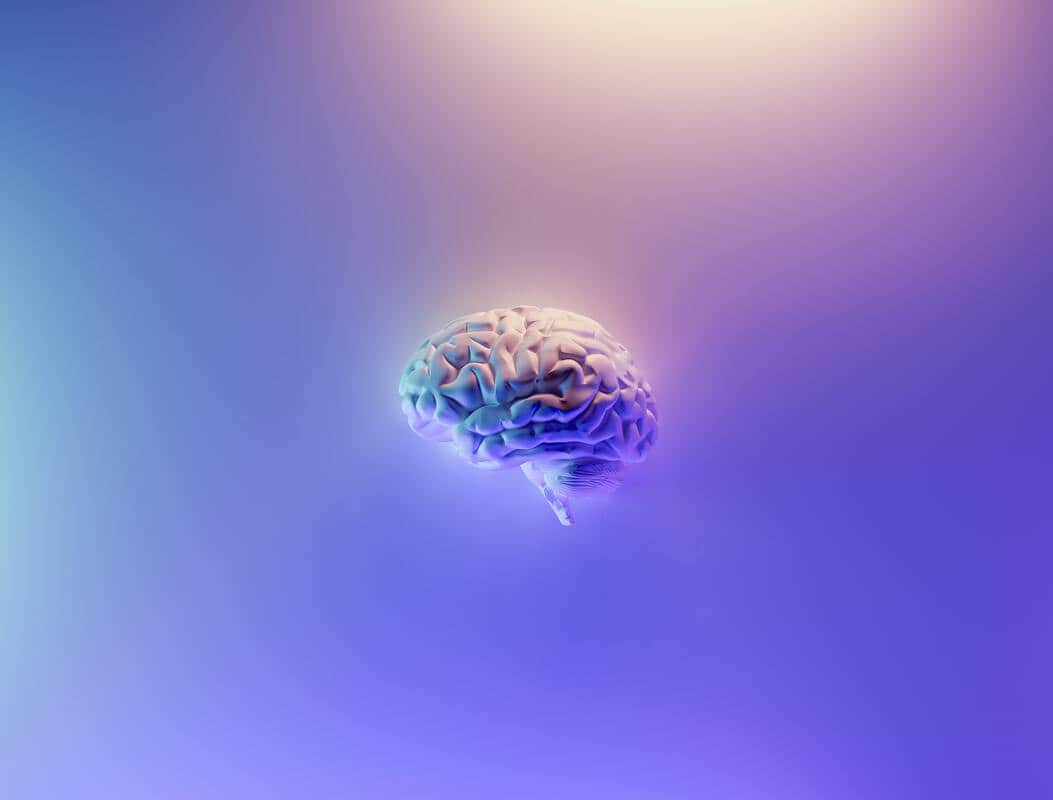 Creative and lateral thinking
Sales is inherently competitive and, like any competitive endeavor, you've got a bunch of smart people working against each other. And everyone's vying for the largest piece of the pie.
As a result, your edge is always small … and always receding.
Your success doesn't depend on how well you tick the boxes and follow the processes, but on how you outdo the competition.
Coming up with new and better ways to empower your sales team relies on your creativity.
Project management skills
You'll need to dream up new initiatives and implement them. Without the ability to oversee entire projects from start to finish, you'll fail to get results.
And with the sheer number of moving parts involved in any business project, you're doomed without great project management skills.
If you're not confident in your project management skills, take on simpler projects with shorter time horizons and fewer stakeholders, in the beginning. You'll build some confidence by stacking up a few early wins.
Technical proficiency
We've found that most businesses with sales enablement positions employ a tech stack consisting of the following:
CRM (customer relationship management system).
CMS (content management system).
LMS (learning management system) or sales readiness platform.
Conversational intelligence tools.
Pipeline analytics and forecasting tools.
Prospecting and segmentation tools.
Demo automation.
None of these tools requires any great technical prowess to navigate or use, but each tool has its own user interface to learn.
What you will find useful, is the ability to work with large volumes of tabular data.
Yes, that means spreadsheets.
A CRM like Salesforce is a goldmine of customer information. If you know how to crunch the numbers in a scalable manner, you'll arrive at better conclusions more quickly.
Can a sales enablement manager work remotely? 👨‍💻
Today there's an abundance of tools to help business professionals from any department work remotely without having to sacrifice performance.
Plus, many organizations today are more forward-thinking in their hiring approach. It's more common to see businesses hiring globally, embracing remote- and flexible-working policies as a fair tradeoff for better talent.
But, a word of warning.
When it comes to performing your sales enablement function remotely, there's that much more separation between you and internal teams.  So you'll have to work harder to make your presence felt in the business.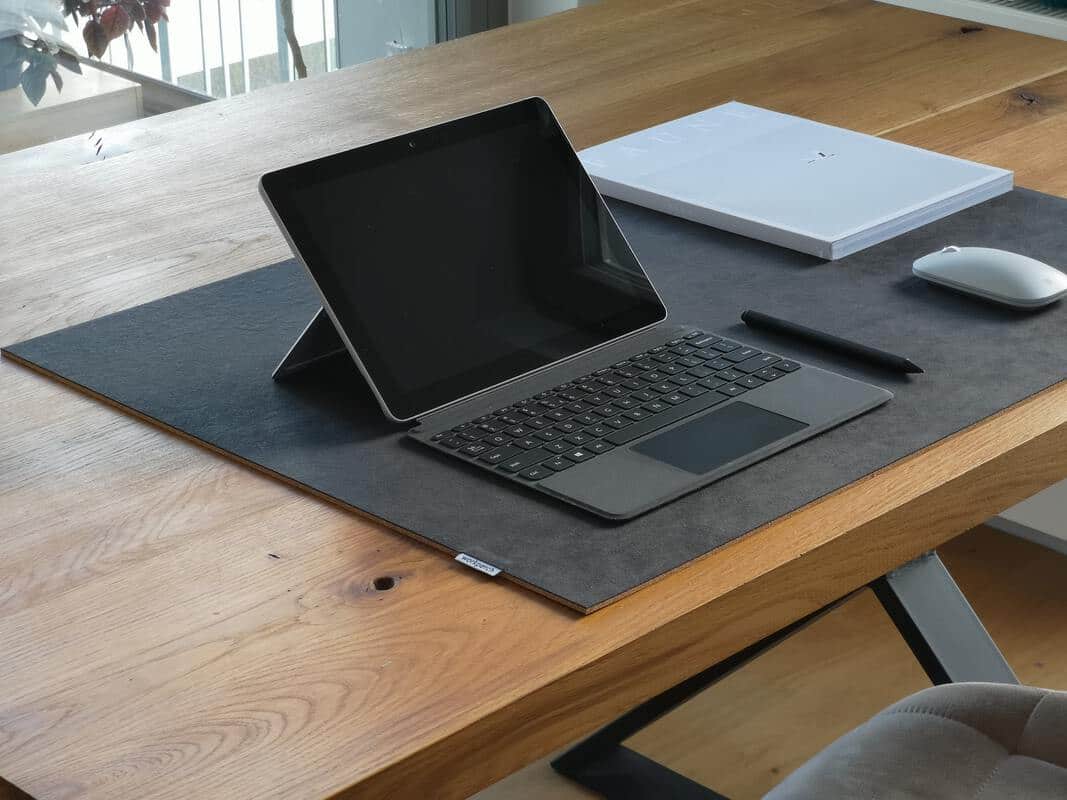 But, if you have the necessary skills and experience, it'll be easy to perform your sales enablement function remotely.
You can do your sales training using video conferencing platforms. You can touch base with sales reps asynchronously with business messaging tools like Slack. And cloud-based file sharing, paired with project management software, makes collaboration across projects easy no matter where you're working from.
However, not many of the job listings we canvassed specify that they offer remote work opportunities.
But if that's what you need, don't give up hope.
This is something you can discuss in your interview. And employers will be more flexible for their strongest applicants. Once you've built a bit of rapport and impressed your interviewer, go ahead and ask!
---
What next?
Want to learn how to leverage competitive intelligence to fast-track your route to sales enablement success?
Sign up for the CIA Signal newsletter for monthly insights delivered directly to your inbox. 👇
---