SWOT analysis is a simple and effective strategic planning technique that helps you identify your business's strengths, weaknesses, opportunities, and threats in relation to your market and your competitors.
Sounds like the sort of thing that'd be helpful in creating a marketing plan, right?
Understand your competitive landscape, and you'll better understand all the factors that go into creating a successful marketing plan (which we'll cover in a little bit).
In this article, you'll discover:
What a SWOT analysis is in marketing.
How to do a SWOT analysis marketing plan (quickfire guide).
Why SWOT is useful in marketing.
How to use SWOT analysis to create a marketing plan.
An example of a SWOT analysis marketing plan.
What is a SWOT analysis in marketing?
SWOT is an acronym for Strengths, Weaknesses, Opportunities, and Threats. It's a framework that helps you evaluate the internal and external factors affecting your business that can influence your marketing performance and potential for success.
Let's break those factors down.
Strengths are the things that give you an edge over your competitors. That means your brand's unique value proposition, your brand reputation, the loyalty of your customers, or your innovative products.
Weaknesses are the things that put you at a competitive disadvantage. Limited resources, high costs, low market share, or poor customer service, are all examples of weaknesses that might be afflicting your business.
Opportunities are the things that can create new possibilities for your marketing success. That could mean new technologies, new markets, new trends, or new regulations.
Threats are whatever can pose a risk or challenge to your marketing success. Economic downturns, competitive pressures, changing customer preferences, or legal issues are all good examples.
How to do a SWOT analysis in 4 steps
This won't take long. As we said, SWOT is super simple.
To do a SWOT analysis, you follow these four steps:
1. Identify your strengths. First, list out all the aspects of marketing your business excels in. What resources do you have available? What are the unique benefits of your products or services? If you're unsure, testimonials and positive reviews from customers can help you enumerate your strengths.
2. Identify your weaknesses. Next, list all the aspects of marketing you need to work on as a business. What resources do you lack? What are the common criticisms that you get from customers? Are there any areas where your competitors have an advantage over you?
3. Identify market opportunities. Are there emerging technologies, untapped markets, changing customer needs or behaviors, or favorable regulations that could create new opportunities for your business and its products or services? List these out too.
4. Identify threats. Finally, are there any factors that can create challenges or risks when it comes to your continued marketing success? Simple examples include economic crises, increased competition, shifting customer demands or expectations, or unfavorable regulations.
You can use various sources of information to help you collect factors for each bucket. Sources include:
Your own data and analytics.
Field intelligence and CRM data.
Employee interviews.
Customer feedback and surveys.
Competitor analysis and research.
Market trends and industry reports.
Industry news and updates.
How you go about collecting the information is up to you, but there are some standard approaches to gathering and organizing this information.
SWOT matrix
The SWOT matrix is a simple table, in a 2 x 2 grid, that shows the four categories of SWOT analysis. It really doesn't get any more simple than this, but a SWOT matrix can help you visualize the relevant facets of your business according to the SWOT framework.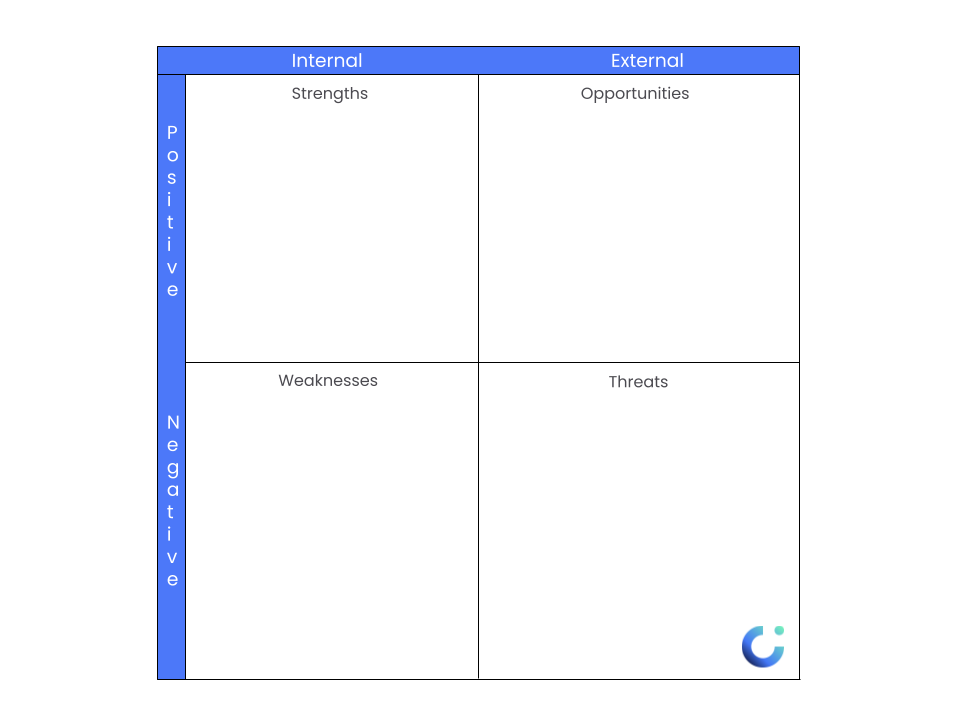 SWOT analysis taskforce and focus groups
When it comes to collecting the information to help with your marketing plan, it can be helpful to assemble a marketing plan taskforce.
Just as when you kick off any other project, it's important to involve relevant stakeholders early. Put together a taskforce for the SWOT analysis, and hold one or more focus group sessions. You'll give those with a stake in the success of your marketing plan a chance to offer their opinions on which factors should sit in each sector of the SWOT.
Different teams are also likely to be more familiar with, or have privileged access to, certain kinds of data or information. Your sales and customer service reps, for example, will be the most up-to-date with feedback (positive and negative) about your products.
Put together a SWOT taskforce, and you'll ensure you get the fullest possible perspective on the current state of your business and its marketing efforts, and what you can do to construct the strongest possible marketing plan.
🤝
Summary
• Identify factors for each component of the SWOT.
• Organize and visualize these factors in a 2 x 2 SWOT matrix.
• Involve stakeholders early with a SWOT analysis taskforce.
---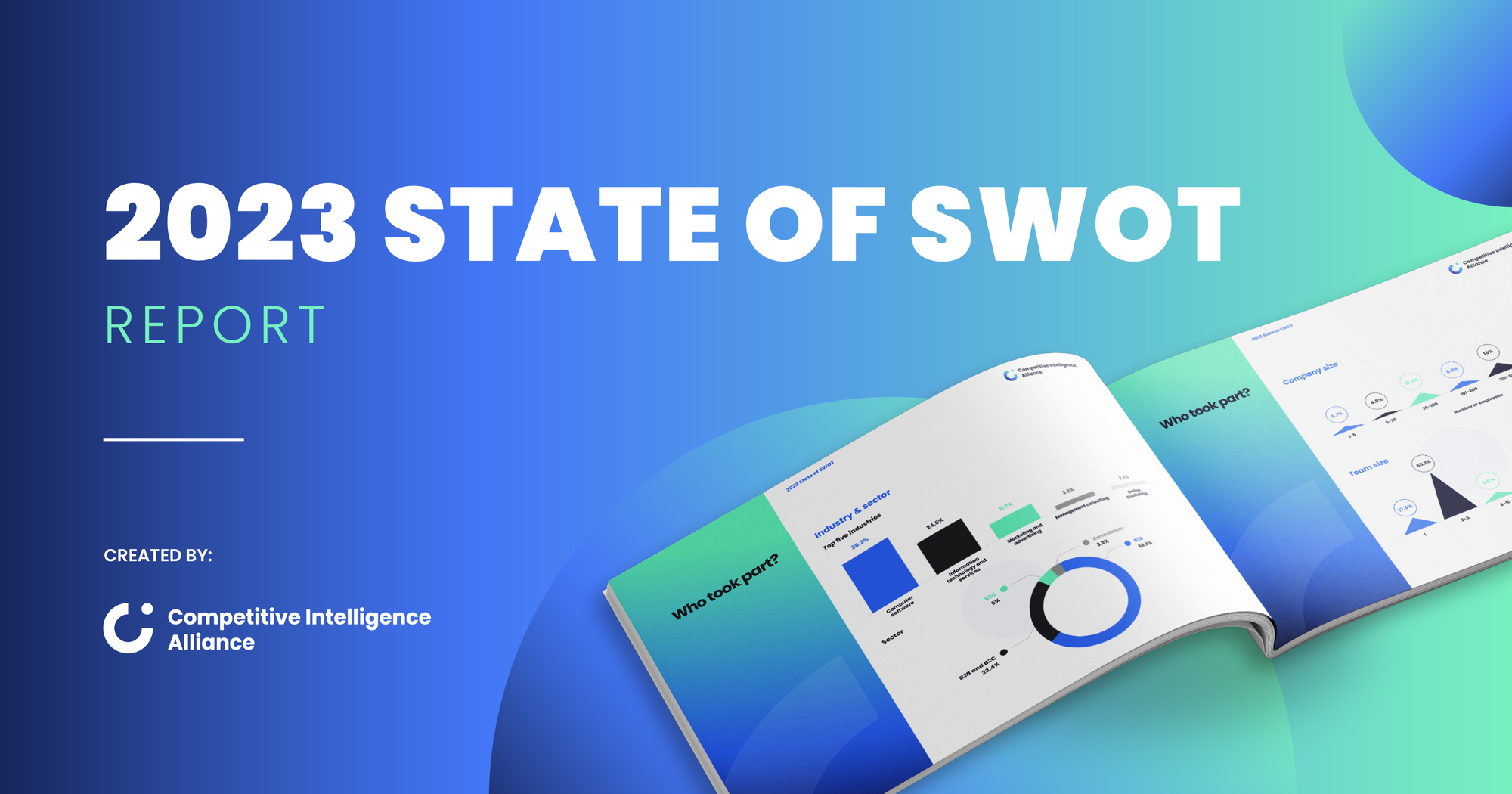 State of SWOT Report
Download your copy to learn...
The five top challenges you face performing SWOT, and how to solve them.
The best ways to measure success or failure post-SWOT.
Whether SWOT is falling out of favor in modern businesses.
The best alternative frameworks and how they compare with SWOT.
The future of SWOT analysis.

Grab your copy
---
Why a SWOT analysis is useful in marketing
A SWOT analysis is useful in marketing because it helps you:
Understand where you stand and how you perform in relation to your market and your competitors.
Discover the gaps and areas for improvement in your marketing strategy.
Discover new possibilities and potential markets for growth and expansion.
Anticipate and prepare for possible challenges and risks that can affect your marketing outcomes.
Set realistic and achievable goals and objectives for your marketing plan.
Develop effective and efficient actions and tactics to achieve your marketing goals.
But these are just some of the reasons SWOT analysis can be useful in marketing. SWOT is a versatile tool. It's earned its place in just about every business school textbook, and it's possible to find variations of the framework going back more than half a century.
In our 2023 State of SWOT Report, we asked the strategy professionals amongst our members what they thought SWOT had going for it to keep it around for so long. Here were the top responses:
"When you've got emerging competitors, or ankle biters as we call them, we'll produce a SWOT analysis for them to demonstrate why we're saying they're important or not important."

~Nishant John, Competitive Intelligence Consultant
"In the early stages, SWOT is a really powerful tool. When I'm looking at a new competitor, and I'm thinking, "Ok, is this a competitor I want to build a battle card or quick dismiss for?" I'll do a SWOT analysis."

~Pat Wall, Head of Competitive Intelligence at Imperva
"SWOT is a great tool to paint that picture of how we're positioned, not against each competitor, but overall in a market segment or, with a specific product."

~Fouad Benyoub, Director of Competitive Strategy, Databricks
How to create a marketing plan using SWOT analysis
To know exactly how our findings from our SWOT analysis are going to help us put together a marketing plan, it'll help to define exactly what we're looking to create.
Here we'll define what a marketing plan means to us, but it's important you do this for yourself and agree the definition with relevant stakeholders so you know exactly what you're working towards.
Defining your marketing plan:
A marketing plan is a document that describes your marketing strategy and tactics for a specific period of time. It includes information such as:
Your target market and customer segments.
Your value proposition and positioning statement.
Your marketing goals and objectives.
Your marketing budget and resources.
Your marketing channels and platforms.
Your marketing activities and campaigns.
Your marketing metrics and key performance indicators (KPIs).
Creating the marketing plan step-by-step
When you know what your final marketing plan should look like, and what it should include, you can get started on creating your marketing plan using your findings from the SWOT analysis.
Here's the method:
Analyze your SWOT results and prioritize the most relevant factors for each category. 🎖️
Match your strengths with opportunities to create strategies that capitalize on your competitive advantages. 💪
Match your weaknesses with threats to create strategies that reduce or eliminate your vulnerabilities. 🗄️
Match your strengths with threats to create strategies that maintain or protect your market position. 🤝
Match your weaknesses with opportunities to create strategies that develop or enhance your market potential. 📈
Write down the specific actions and tactics that you will implement for each strategy. 🗓️
Assign responsibilities, timelines, budgets, and resources for each action and tactic. ⏳
Define the metrics and indicators that you will use to measure and evaluate the results of each action and tactic. 📏
Breaking down the steps
There are certain tactics, like matching and converting, contained within the above steps it might be useful to break down. We discuss them more in detail on our post dedicated to SWOT analysis for strategic planning, which you might also find interesting.
Example marketing plan using SWOT analysis
Let's round off with an example to illustrate how to use a SWOT analysis to create a marketing plan.
We'll use an example of a fictional company called No Bake Cakes, which sells gluten-free and vegan bakery products online.
No Bake Cakes did a SWOT analysis and got the following results:
Strengths:
• Healthy and delicious ingredients.
• High customer loyalty and referrals.
• Creative and appealing designs.
• Recyclable and compostable packaging.
Weaknesses:
• High prices compared to competitors.
• Limited product range and variety.
• Low online presence and traffic.
• Dependence on third-party suppliers and shippers.
Opportunities:
• Growing demand for gluten-free and vegan products.
• Increasing health and wellness awareness.
• Diversification to new markets and segments.
• Collaboration with bloggers and influencers.
Threats:
• Strong competition from established and new entrants.
• Price sensitivity and instability of raw materials.
• Regulatory changes and compliance requirements.
• Cybersecurity and data privacy risks.
The marketing plan:
Based on these results, No Bake Cakes created the following marketing plan using SWOT analysis:
| Strategy | Action | Responsibility | Timeline | Budget | Resource | Metric |
| --- | --- | --- | --- | --- | --- | --- |
| Capitalize on strengths & opportunities | Launch a new product line of sugar-free and low-carb bakery products | Product manager | Q1 2024 | $70,000 | R&D team, suppliers, packaging designers | Sales, revenue, market share |
| Capitalize on strengths & opportunities | Create a referral program that rewards customers for inviting their friends to buy from No Bake Cakes | Marketing manager | Q2 2024 | $20,000 | Web developers, customer service agents | Referrals, conversions, retention |
| Capitalize on strengths & opportunities | Partner with bloggers and influencers who share No Bake Cakes's values and mission | PR manager | Q3 2024 | $40,000 | Blogger agencies, social media managers | Reach, engagement, brand awareness |
| Reduce or eliminate weaknesses & threats | Lower prices by sourcing raw materials from local and organic suppliers | Operations manager | Q4 2024 | $30,000 | Procurement team, logistics team, quality control team | Cost, margin, customer satisfaction |
| Reduce or eliminate weaknesses & threats | Increase online presence and traffic by investing in SEO and PPC campaigns | Digital marketing manager | Q1 2025 | $50,000 | SEO agency, PPC agency, content writers | Traffic, ranking, clicks |
| Reduce or eliminate weaknesses & threats | Improve cybersecurity and data privacy by following best practices and standards | IT manager | Q2 2025 | $25,000 | IT team, security consultants, legal advisors | Compliance, security, trust |
| Maintain or protect market position | Maintain healthy and delicious ingredients by conducting regular audits and tests | Quality manager | Q3 2025 | $15,000 | Quality team, lab technicians, certification bodies | Quality, safety, certification |
| Maintain or protect market position | Maintain high customer loyalty and referrals by engaging with customers on social media and email newsletters | Marketing manager | Q4 2025 | TBD | Marketing team, content creators, community managers | Engagement, loyalty, referrals |
---
Download the State of SWOT Report
We had far more questions about SWOT analysis for our survey-takers.
🎯 Which SWOT applications offer the best ROI?
👍 How do you measure the success or failure of a SWOT analysis?
🔮 What does the future hold for SWOT analysis? And how do you overcome its inherent challenges?
Want to dig deeper into the reasons why modern attitudes towards SWOT are the way they are? Want to read the real comments and opinions of practitioners to learn how to improve your own application of strategic frameworks in your business?
Grab your no-cost copy of the report today and upgrade your competitive intelligence toolkit. 🧰
---